Junior earns black belt
She takes a deep breath and focuses on the target as it slowly swings back and forth. Her palms are slick with the sweat accumulated over the past hour spent on the mats, and her mind races as her final obstacle is coming to it's conclusion. Is today the day? With a swift and final kick, junior Hannah Hosid successfully achieves her long awaited goal- to become the first black belt at TST Martial Arts.
Hannah can be found practicing at her dojo every week. She tested for her black belt Dec. 17 and has been working toward earning new notches ever since.
"Martial arts has helped me grow as a person," Hosid said. "I wasn't very respectful, and when I started training here I learned respect and self-discipline and all that kind of stuff."
Hannah is a member of the high school band and spends her free time practicing her music or martial arts skills. She began training at TST Martial Arts about three years ago. After asking for the ability to protect herself, Hannah and her brother were signed up together as a Christmas gift. Hannah, her mother and brother all participate in martial arts activities together.
"It's been a lot of bonding time for us," Hannah's mother Nancy Hosid said. "I think we have grown together even more so, just because of the time we have spent together and the time she's been doing this."
"
It makes me feel good on the inside just because I know I'm helping kids learn things that they're interested in."
— Hannah Hosid
After receiving her green belt, the fourth belt earned during the martial arts process, Hannah was asked by her Master Matt Flanary to become a junior instructor. While working to perfect the criteria to earn her black belt, she also helped instruct beginners and younger students with their skill building and self-defense training.
"It makes me feel good on the inside just because I know I'm helping kids learn things that they're interested in," Hannah said. "When they want to know how to do something I can teach them how to do it."
By mid-December, Hannah was fully prepared to take her black belt test. The test took over an hour and covered all of the self defense and martial arts tactics that she had learned over the past few years. Hannah's family and friends, including her mother, brother, grandparents and junior Penelope Straus and sophomore Carrie Weaver attended to show their support.
"I felt relieved when she had finished her test and got her black belt because it was a big accomplishment for her," Straus said. "I was really excited that I could be there to watch her."
After successfully completing her black belt test, Hannah became a full instructor and the first black belt at her dojo. She had put in over 800 hours of training leading up to her black belt, and spends 10-12 hours per week practicing to perfect her skills.
"She goes above and beyond everything that I ask her to do," Master Matt Flanary said. "You don't get a black belt, you earn it and that's exactly what she did."
Leave a Comment
About the Contributor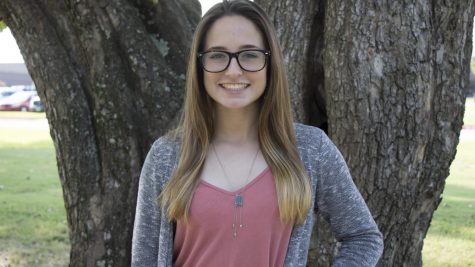 Tyra Rodden, Sports Editor
Tyra Rodden is a senior at Lindale High School and the sports editor for the Eagle Eye staff. She competes in softball, track, cross country and UIL. She...