Eaglevision Livestreaming Home Games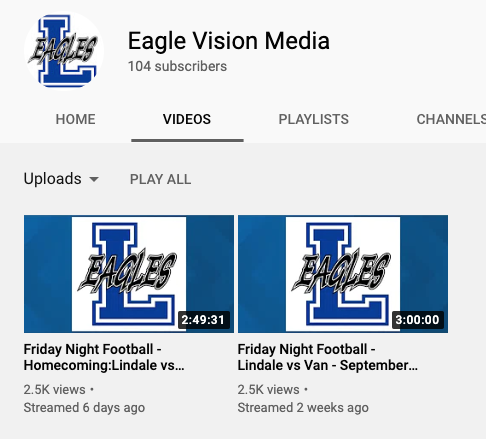 The Eaglevision team is working to livestream home games for those who cannot attend due to COVID-19 capacity limits in the stadium . Every home game will be shown on their YouTube channel in real time, and can be found at EagleVision Productions.
     "For right now UIL has lifted its ban on the full livestreaming of football games," EagleVision adviser, Neda Morrow, said. "Normally, you cannot livestream the whole thing. You can either do it delayed, or do it after the game is over. But due to the limits on capacity, we're now allowed to stream in real time."
    For those who will not be able to come to any home games, the stream is a reliable alternative, with multiple access points. Links can be found on many websites from the district.     
    "On game day, the easiest way to view the livestream is to go to the Lindale High School website," Morrow said. "There's a link there and on our athletics page."
    The advanced audio/visual class is responsible for setting up the stream and being there to operate the cameras during the game. A lot of technical tasks come with streaming to people at home, and the class works around them.
     "It's really challenging to set everything up," junior Chris Tate said. "Having to make sure every camera is linked to the Tricaster, and they all are focused and ready to shoot is a long process. When we're finally set up, it's just a matter of making sure you get all the footage."
     Different cameras are placed throughout the stadium where they are switched between so multiple views are available. Morrow runs the Tricaster, which is the center for all the content the cameras are receiving.      The stream is then broadcast directly to the Eaglevision YouTube channel where anyone can watch if they want. The game is videoed in full, including any pre-game activities and halftime.
     "We try to capture anything that goes on before and during the game," Tate said. "We set everything up and make sure the stream is in good quality for those watching at home, then we just roll the cameras, and let others enjoy the game."