Community Member Battles Cancer
Senior's mother brings awareness to women's health issues.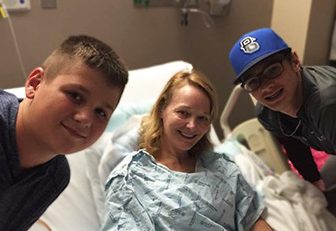 She wakes up and rolls out of bed, sleepy while trudging to the bathroom. She brushes her teeth and does her hair. She carefully applies her foundation and mascara and then takes a long look in the mirror before emptying her draining bags and carefully changing her bandages. She walks into the kitchen where her mother makes her favorite meal. It is just another day in recovery for Toni Richey
"September 19 I went in for a biopsy, and this is frequently done, so I really wasn't expecting it to be anything abnormal,"Richey said. "But it came back with some cancer cells in it. The cancer they found was only 8 millimeters. It was very small, so I was very very fortunate that they found it."
Toni Richey's son, Jamey Richey, is a senior and has recently committed to Texas State University to play baseball. The community, such as the baseball team and their booster club, have all come together to show their support for the Richeys.
"I feel like my mom is a fighter and she can get through anything," Jamey Richey said. "I know she will beat it. She loves baseball so I'll be playing my last high school season for her and doing baseball almost every weekend to get a smile from her."
Toni Richey was diagnosed with stage one breast cancer this August when she went in for her routine mammogram. Richey, a nurse practitioner and mother of two, did not see it coming.
"I'm a nurse practitioner; I work for UT Health Center, and the ironic thing is that I do women's health care," Richey said. "Something I've always stressed to my patients is it's important to get that mammogram every single year and always be checking and doing the self breast exam."
The suddenness of the diagnosis has shocked Toni Richey as well. According to Richey the hardest part of the journey is  accepting that it has happened to her and telling her family.
"
"
It's difficult sometimes to accept that it's happening. It happens suddenly and you don't necessarily feel sick you just wake up and they tell you you have cancer one day. Then having to share it with your family and the people around you because you know it affects everybody"
— Toni Richey
For Toni Richey's family the news was a shock. Her daughter Fate Richey has recently moved to Germany for grad school and the distance has made the situation that much harder.
"Honestly cancer was one of those things that happened to other people, other families," Fate Richey said. "I have done many pink ribbon [and] pink out days in my life, but when it comes in contact with you if feels surreal. It doesn't exactly click–It is like you are watching a sad movie and not really living your life."
Though the situation may be daunting, Richey is taking it in strides. She plans to use her experience to better connect with her patients and relay valuable information.
"It gives me a chance to really try to push that to [my patients] because I got my normal mammogram, it wasn't something new," Richey said. "It wasn't something I felt,.I just went in for my normal screening and there it was. If I had skipped a year I would have been a lot further along in the cancer diagnosis when they found it."
The whole treatment process moves very quickly and can be overwhelming. It is important to face the cancer head on and analyze the information properly.
"There's a lot of decisions that [have] to be made in a very short period of time," Richey said. "There's a lot of really good information that you will get from your original biopsies about the type of cells in the cancer, the type of tumors, some of them are fed by estrogen. There are different biomarkers that tell you how aggressive the cancer actually is. Then you have to go to the professional, your physicians and radiologists and make the decision about what type of treatment you want."
Toni Richey agreed to do this interview on one condition. She wanted to use this opportunity to speak to the community about the programs created for women to prevent breast cancer.
"I think a lot of women aren't aware that there are many programs out there that help to provide free healthcare for breast cancer screening," Toni Richey said. "There's three of them I work with everyday at UT: The Breast Cancer/Cervical Cancer screening, Healthy Texas Women, and then there's a grant just from UT. So anyone about age 16 to 64, citizenship or not, any woman has access to care through that program and they can get all the mammograms and follow ups that they need."
Through these excellent programs women can get free medicaid that pays for their treatment. This way women do not have to be cautious about taking care of themselves because of lack of funds. According to Toni Richey, there is really no reason not to get a mammogram.
"My first instinct was to kind of keep it to myself and not burden [my family]," Toni Richey said. "It's not something you can really do that with, once it's there you have to deal with it. I have a wonderful support with my family, my husband, and both kids too. I know that in the long run it's going to be good for me as a practitioner because I'm going to be able to share my experience with women that I'm helping to go through it themselves."
Leave a Comment
About the Contributor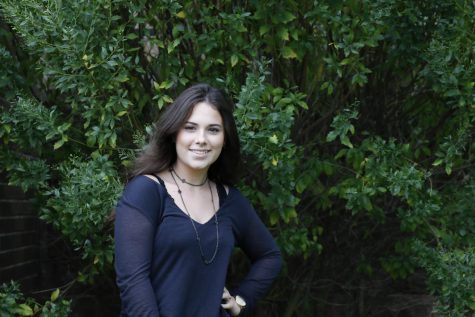 Isabelle Phillips, Managing Editor
Isabelle is a senior at Lindale High School and the managing editor of the Eagle Eye staff. She enjoys, photography, writing, and cosmetology. Isabelle...