As they stepped into their third-period class, the familiar beep of the intercom signaled the start of the daily announcements. Their attention was captured when they heard "Now, it's time to announce your Homecoming queen nominees for the 2023-2024 school year."  With anticipation, seniors Avery Adams, Ana-Russell Johnson, Mia Piccoli, and Gracie Ray all listened as their names were announced. The girls couldn't help but radiate with joy at the thought of proudly representing their school under the Friday Night Lights.
The Homecoming nominees will gather at the field on Friday for the 2023-2024 Homecoming ceremony. Voting will begin this week and will end on Friday afternoon.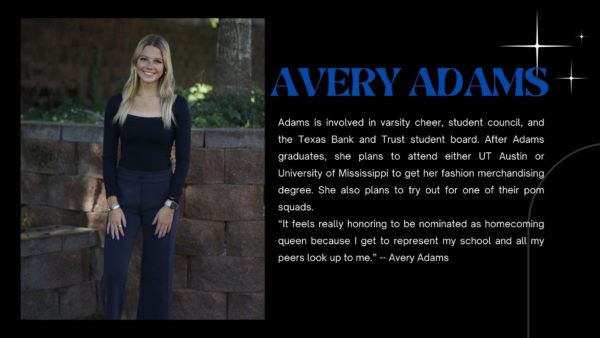 "I am so excited about Homecoming," student council sponsor Renee Ramsey said. "I love this year's theme and dress up days so much."
Avery Adams is involved in varsity cheer, student council, and the Texas Bank and Trust Student Board. After Adams graduates, she plans to attend either UT Austin or University of Mississippi to get her fashion merchandising degree. She also plans to try out for one of their pom squads.
"It feels really honoring to be nominated for Homecoming queen because I get to represent my school and all my peers look up to me," Adams said.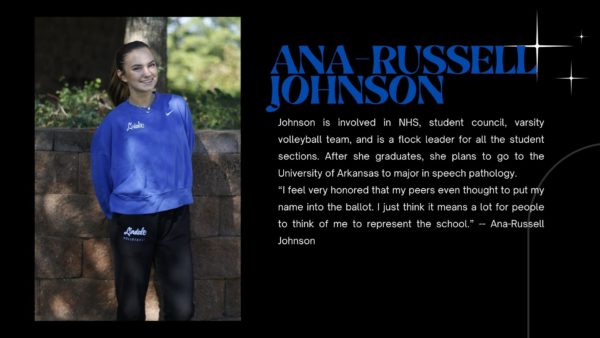 Ana-Russell Johnson is involved in NHS, student council, varsity volleyball team, and is a flock leader for all the student sections. After she graduates, she plans to go to the University of Arkansas to major in speech pathology
"I feel very honored that my peers even thought to put my name into the ballot," Johnson said. "I just think it means a lot for people to think of me to represent the school."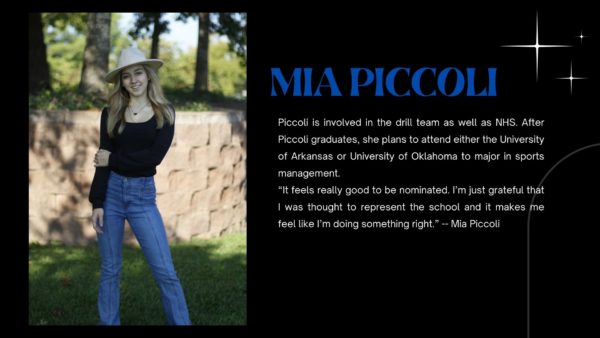 Mia Piccoli is involved in the drill team as well as NHS. After Piccoli graduates, she plans to attend either the University of Arkansas or University of Oklahoma to major in sports management. 
"It feels really good to be nominated," Piccoli said. "I'm just grateful that I was thought to represent the school and it makes me feel like I'm doing something right."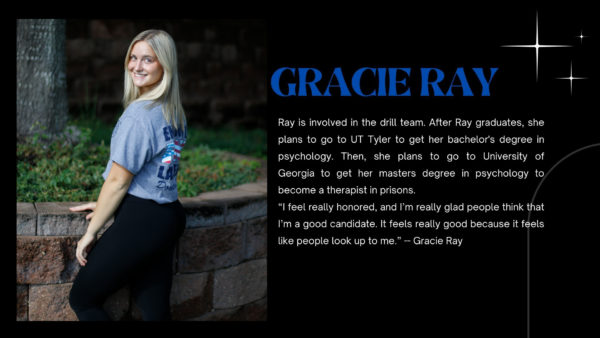 Gracie Ray is involved in the drill team. After Ray graduates, she plans to go to UT Tyler to get her bachelor's degree in psychology. Then, she plans to go to University of Georgia to get her masters degree in psychology to become a therapist in prisons.
"I feel really honored, and I'm really glad people think that I'm a good candidate," Ray said. "It feels really good because it feels like people look up to me."
Each class voted on a class duchess to represent them. The duchesses are freshman Jaime Philips, sophomore Kaniya Pierce, junior Irelynn McWithey, and senior Macy Beeler. The football sweetheart for this year will be junior Aubrey Travis. Joining the court will be last year's Homecoming Queen, Kenzie Wallace. 
"I'm so excited to represent the senior class," Beeler said. "I'm glad I was given this opportunity for my last year of high school."