Sports Recruitment: A Deep Dive
High school sports recruitments for next fall are underway and students are receiving visits from many head coaches. All sports have experienced success at Lindale with more than 10 students moving to the college level within the last 4 years. It is many high school athletes' goal to be recruited by a college coach; however, only 7% of student-athletes end up competing in the NCAA.  College coaches cannot contact high school athletes over the phone until June 15 after their sophomore year, and they cannot meet in person until September 1st of their junior year of high school.  
"Our main goal is to prepare the athletes for life and how to overcome adversity in the real world, while coaching them up in a sport," head coach Jessica Dimsdle said. "Our hope is that players leave the program ready for life whether that is as a college athlete, college student or into the workplace."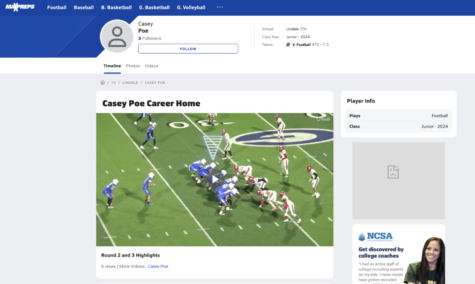 To begin the recruitment process, athletes create social media accounts and profiles on websites such as MaxPreps to present themselves to colleges. They include details such as individual and team stats as well as photos and videos depicting their skills. According to ScholarshipStats.com, only about 6.1% of high school athletes continue playing in college and 1.2% make it to the NCAA.
Five students from Lindale have been or are currently being recruited to play college football. One example of these athletes include 2021 graduate and running back Jordan Jenkins at Baylor. This year, senior Will Hutchens signed to Sam Houston University and junior Casey Poe has received more than 22 college offers.
"I am most excited about getting to play at the next level," senior Will Hutchens said.  It's been a dream of mine for a long time."
Lady Eagles volleyball has also seen success in college. Of the graduating class of 2021, 5 girls have continued the sport into college. Marleigh Thurman signed to Williston State College and Shelbi Steen plays on the TJC team. Juniors Kayli Vickery, Maddox Lay, and Reagan Cates and sophomores Aspen Ives, Reagan Hope, and Addison Ridge hope to play in college in the future.
"I enjoy being with my friends all the time and just how rewarding it is when you win a big game," Lay said. "I would like to go to college at Arizona State University if I got an offer."
Girls' Basketball has had two players move to the college level. Lily Chamberlain, a 2021 graduate, signed to LeTourneau to play and is currently transferring to Texas Tech starting in the fall. Senior Jillian Ortiz will be playing for LeTourneau next year. On record, boys basketball only has one player playing on the collegiate level, current Western Illinois junior Cody Collinsworth. Senior Ryder Johnson is currently committed to playing basketball at Hardin-Simmons University in Abilene.
"Honestly I'm just not done with the game and I feel like the harder I work the farther I can go so why stop at high school," Ortiz said. "If the opportunity is there then I'm taking it."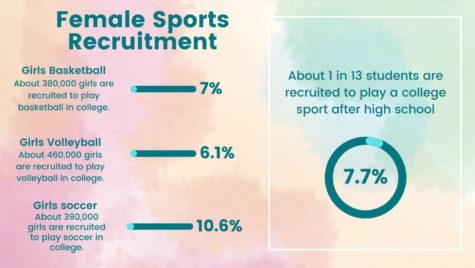 Four players have or will sign to colleges in girls' soccer. 2022 graduate Emma Bosworth signed with The University of Southern Maine and seniors Kaydee Cox, Brooke Everest, and Kaniyah Hill will all sign later in the spring. Last year four players signed up to play boys' soccer. Cole Falco is playing for ETBU, Ezra Caoili playing for Jacksonville College, Justin Groves playing for ETBU, and Solomon Saboia plays for TJC.
Until July 2021, college players were not making any money for any merchandise sold using the name, image, and/or likeness (NIL). With the recent update to the NCAA rules, states can decide whether or not these players can make money off of jerseys sold in their name, video game characters, and many more. States such as Texas, Alabama, Florida, Georgia, Mississippi, and New Mexico allow athletes to monetize their NIL. College athletes earned an estimated $917 million in their first year of NIL payments. Popular athletes can make anywhere between $400,000 to $700,00 while the least popular make between $5,000 to $30,000, according to AthleticDirectorU.Com.