Lindale High School Senior Wins Good Neighbor Award
 A smiling Gracie Tucker turns the corner of the Lindale High School hallway toward the front office, curious as to why she's been called there.
         "I was like what's going on," Tucker said. "I didn't think I was in trouble, but I was confused."
         All it took was Tucker's big smile to break the solemn faces State Farm Insurance Agent R.J. Collins and Counselor David Ramsey were trying to put on. They quickly broke into smiles too and informed Tucker she was being honored with the R.J. Collins Good Neighbor award.
"I was so happy," said Tucker. "It makes me feel special. A lot of people don't get the award."
The senior track athlete was presented with a plaque, a State Farm roadside assistance travel kit, and a Doc's gift certificate. The prize is given monthly to a high school student who best reflects the school's values through their commitment to integrity, respect, ownership, discipline, accountability, honesty, responsibility, and community contribution.
"We are recognizing the kids that may or may not be in the spotlight, but they are the ones always doing the right things," Collins explained.
He said the idea came to him about four years ago. He and a principal were talking about the possibility of an award from his local State Farm Insurance office. He realized the core values the school strives to instill in the students was the definition of a good neighbor. Thus, an award was born and recipients like Tucker are thanked for their heart to do right.
"She has a contagious spirit," said LHS Counselor David Ramsey. "She always smiles and lifts those up around her."
Ramsey hopes this award will encourage Tucker to continue chasing her dreams, even after she's graduated from high school. Tucker is trying to get a track scholarship, but if not, she's considering the Army to help her pay for college. Regardless of how she gets there, Tucker wants to enter the medical field to help others.
The advice she would give to her peers — always be yourself.
"Even if something may not be the way you want it to be, just stay positive," said Tucker.
So, if you want a good neighbor, look no further than the halls of Lindale High School.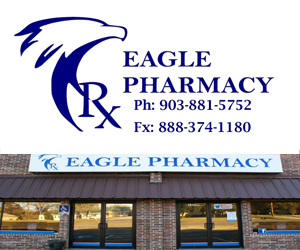 Leave a Comment