State Farm honors LHS student with December award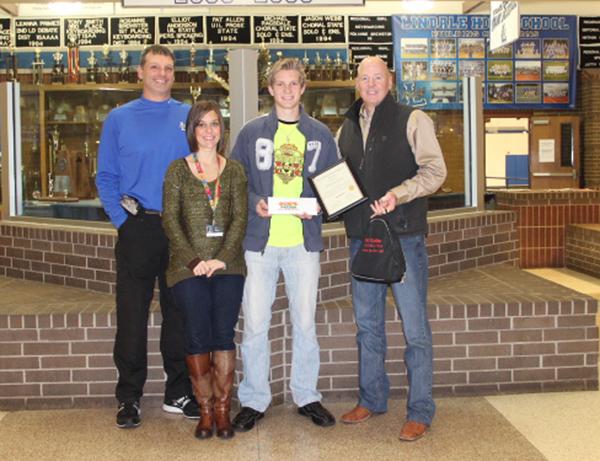 Sometimes getting called to the office turns out to be a gut-wrenching experience, but Christian Smith found out that it isn't always bad.  Smith was selected as the recipient of the December State Farm Good Neighbor Award  sponsored by R.J. Collins State Farm Insurance.
Smith received a travel safety kit, a framed certificate, and a gift card to Doc's Pizza.  The awards are given to students who are consistently doing the right thing and working with excellence.
"This award is presented once a month during the school year to a student who represents the core values of Lindale High School: accountability, commitment, discipline, honesty, integrity, ownership, respect and responsibility," communications specialist Maya Bethany said.
Smith is involved in student council and has recently headed up a new program where music is played on the intercom on Fridays.
"I select songs and have other groups deliver them to me," Smith said.  "I put together a playlist every week to play for the school."
Smith is especially proud to attend LHS and looks forward to continuing his education at LeTourneau or Louisiana Tech.
"I like Lindale for several reasons," Smith said.  We are an excellent school within the region, and all of our staff care deeply about every single child here whether it be the misfit in the corner or the child who sits alone at lunch .  Not only that, but students also care.  We are not only a school but a family."
Leave a Comment