Senior Excels in Multiple Fields
Sydney Smith makes waves in theatre, newspaper and audiovisual.
Flipping through her planner, she examines the many projects she has on top of her extracurriculars. She has to edit and write stories, plan a few club events, and oh, and she has to stage manage three theatre shows on top of it all. Instead of getting too stressed, she takes on her assignments one at a time before baking a few cookies to relax.
Sydney Smith is a graduating senior who has certainly left her mark on LHS. She is the current Editor in Chief of the Eagle Eye and serves as the theatre president and go-to stage manager.
"Sydney is one of, if not the best, student we have in the department," theatre director Taylor Jarman said. "From awkward freshman Sydney to awkward senior Sydney, it's been great. Her leadership with others is incredible. She has always loved people. She gets others involved, wants to make sure that everyone always knows what is going on, helps those that don't have as many friends [feel included] and she does this consistently. I am sad that she's leaving, but that's part of life, and she's going on to do bigger and better things."
Smith spends countless hours working after school and through lunches to go above and beyond to help her administrators. She continually shows dedication to the programs she is involved in.
"Students come and go, and we want to say we're going to remember them all, but we don't," newspaper administrator Neda Morrow said. "The truth is, some students stand out. Sydney, although she is multi-talented, has gifts that go beyond that. She is able to coordinate with groups. She is able to fit in with any environment. She is able to do so many different things and be respected by so many different people. Frankly, I was considering just failing her for her senior year so she'd have to come back again [LOL].  The reality is that Sydney is the type of student who loves other people, and that love comes through her to all of her friends and the people she is in charge of."
Smith has not gone without recognition. Her newspaper staff has received Interscholastic League Press Conference Silver Star awards, she has worked on films that have been awarded on state levels and she has won numerous technical awards in One Act Play Competition, including best technician in the state.
"Sydney is like the glue that holds our department together," theatre director Kari McKenzie said. "She keeps Jarman and me in check; she keeps the students in check and  she was really great in her job as stage manager. She was even our go to person beyond that; if we weren't in a show, we still always depended on Sydney to make sure that things were taken care of."
"
Sydney is like the glue that holds our department together."
— Kari McKenzie
Sydney gracefully manages two different groups of people. She is the student leader of the newspaper staff, and is the theatre president, on top of stage managing.
"Sydney is the most stubborn I know," senior Chloe Land said. "It's good, because she is so driven. She makes sure that she does everything to the best of her ability and if it's not perfect, she will go and figure out why it's not perfect and make it perfect. That's her personality; she is so dedicated to do everything to the best of er ability to where no one [under her] slacks off."        
Sydney's characteristics lead to friendship and respect from her fellow classmates. She inspires those around her to work harder for the good of an end goal.
"Whenever you're around her, you just want to smile," senior Regan GoDair said. "She is very passionate about what she does and very proud of her work. Sydney makes everyone feel welcome and always wants to see people do their best."
View Comments (2)
About the Writer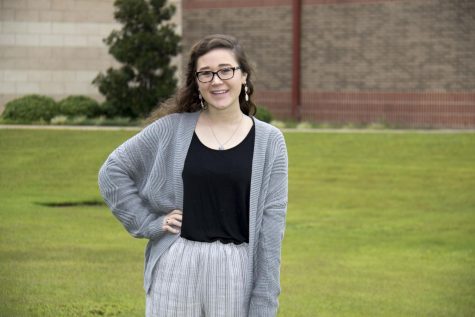 Annie Evans, Managing Editor
Annie is a senior at Lindale High School and the Managing Editor for the Eagle Eye staff. Outside of newspaper, she is a stage manager for the theatre...