Debate has success at State
With the judges panel eyeing his every move, he nervously clears his throat. The walls of the legislative room seemed to mimic every slight sound. With newfound confidence, junior Evan Bewersdorf steps up to the podium to deliver his final speech.  
Bewersdorf earned first place at the UIL State Congressional debate meet Jan. 10-11. State-qualifiers competed at the University of Texas in Austin, and finalists competed in the State Capitol.
"Honestly, I was very surprised when I found out I was the State Champion," Bewersdorf said. "The competition was very close and hectic."
The contestants draft proposed laws and also research bills and resolutions regarding real-world issues. Students speak over the advantages and disadvantages of each one, and vote on whether to pass or negate them.
"Congress is an individual contest in a large group setting," the UIL website said. "It models the legislative process of democracy, specifically, the United States Congress."
Debate competed at District Nov. 8 and 49 students advanced to the State competition. Along with Evan's placing, junior Anthony Wyatt received third place and junior Ronak Desai earned ninth.
"It's a very prestigious opportunity to compete at the State level, especially in congress," Wyatt said. "I think that it provides a very real world experience to compete at somewhere like the capitol."
The competitors received their State materials in late December, and began preparation over the 20 different topics that could surface during competition. They practiced for less than two weeks before competing.
"It's a lot of work and it's kind of spread out, which makes it more difficult,"  debate coach Rory McKenzie said. "They've got so much natural ability but their hard work goes and that's how they're able to do it."
The students placing first and third allowed 26 points to be put toward the State Sweepstakes award. These points will give the team an advantage for a high placing, as Lindale was the only school to place two competitors at the state congressional meet.
"This is the first year that we have placed in this event at State,"  McKenzie said. "It was Evan's first championship, so it was great."
Bewersdorf is the congress team captain, and also competes in Extemporaneous Speaking and Lincoln-Douglas Debate. His achievements over the past few years of high school have reached new heights.
"Debate has taught me to be an advocate for change," Bewersdorf said. "I believe every student should be able to enjoy politics, and debate provides the best platform for that. My experiences should reflect that students can have an impact on politics and their voices can be heard."
Leave a Comment
About the Contributor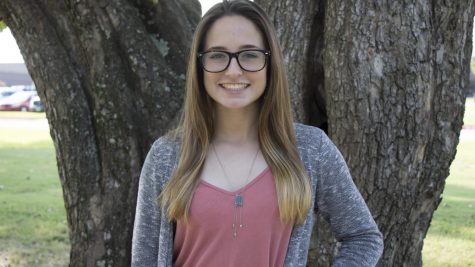 Tyra Rodden, Sports Editor
Tyra Rodden is a senior at Lindale High School and the sports editor for the Eagle Eye staff. She competes in softball, track, cross country and UIL. She...