Theatre department presents 'Medea' for competition
On January 2nd, rehearsals for the annual one-act play competition began. This year's play is the ancient Greek tragedy Medea.
"We chose this play because we thought we had a good cast for a lot of the roles," theater director Taylor Jarman said. "We really feel like the kids are going to be able to pull it off. It's a really cool, interesting new concept. . . so we're really excited to take part in it."
Medea was originally set in ancient times, however Jarman and co-director Kari McKenzie are modernizing the play, taking it out of ancient Greece and placing it in midtown USA in the 1940s. This concept is similar to the 1996 Romeo and Juliet film which was based in the 90s, but kept the original script that Shakespeare wrote.
"We're actually setting this production in the 1940s which is a little different," McKenzie said. "Shakespeare, Escalus, and a lot of those really historical playwrights make their plays not in a specific time or place so you can be creative with that process.
McKenzie and Jarman are also planning to be creative with props. They will be using this to their advantage to make the characters seem more realistic.
"I'm playing one of [Medea's] children," freshman Nalany Hernandez said. "What's really cool is that I'm operating a puppet because I'm supposed to look younger, because I'm older than seven which is the character's age."
Just like most UIL events, the play goes to a district-level competition to compete against local schools from the East Texas area. If they win district, the team will advance to bi-district, area and hopefully make it to the state competition in April.
"I think we have a very strong cast," senior Nelson Bond said. "I think it fits this play really well. We have two very strong directors, so I think that if we work and we really put our minds to it, we could advance to state. But I know we're going to have a lot of fun."
One-act play is much different from other productions the theater program does throughout the year. There are more practices and a stricter time frame.
"Since this is one-act play season, we do a lot even more in depth research where we spend extra time digging into the script than we normally do," Jarman said. "Those things kind of  change between when we're doing fall production. It doesn't quite have that same stress level, but there are some really cool benefits of competition pieces and being able to put something together and compete against other schools."
Leave a Comment
About the Contributor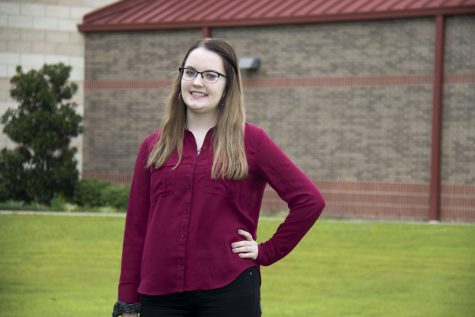 Kaylee Rodriquez, Editor-In-Chief
Kaylee is a senior at Lindale High School and the Editor-In-Chief for the Eagle Eye staff. Kaylee is also a member of the audio visual production team,...