Art Students Create Portraits for Children in Developing Countries
    Select students in art teacher Rebecca Harrison's class are partnering with The Memory Project to create portraits for kids in developing countries. This year, the portraits will be going to Venezuela in October and Cameroon in March.
     "I am usually overwhelmed every class period when I show the students the impact they have made on these children who are growing up in a world where there is so much pain, hunger and loss," Harrison said. "To be able to have a positive connection with a child growing up in an impoverished community is a true blessing."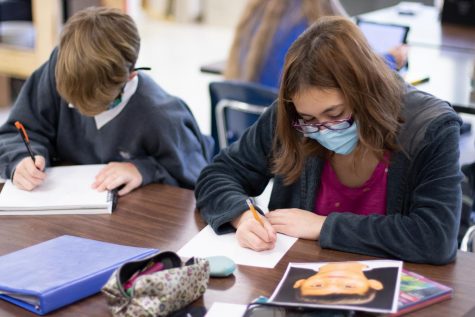 The Memory Project is a group that partners with American schools and children from certain developing countries on a goodwill mission to show their support for kids all over the world. They take photos of these children to send to students who will then create portraits and return them to the children through the organization.
     "With my family being from Mexico, I have seen poverty and how it affects these children on the daily," freshman Alisa Thane said. "Knowing that I could bring even a moment of happiness to a child in a bad situation gives me hope that other people can open up their hearts and do the same."
     The deadline for Venezuela portraits is October 21 and the deadline for the Cameroon project is March 17. Most of the children who will receive a portrait are between eight and thirteen years old.
     "I do not usually do a lot of charity or volunteer work, so I am trying to do more of that this year," junior Vivian Lehmann said. "I have never done anything like this before, so it will be interesting to see how it goes."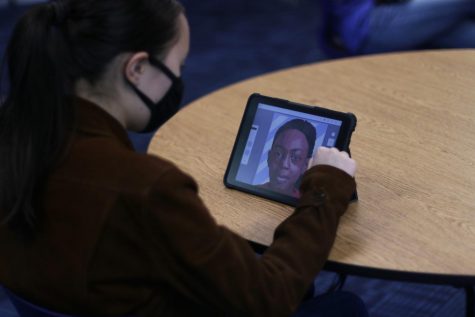 Portraits will be submitted by the students about ten days before the actual mailing deadline to Harrison. Because of this, their work is able to be exhibited here at school in rooms 119 and 121.
     "My goal is to make my kid, Percy, feel special because I have seen throughout the years how impactful this project is to the kids and I love seeing their reactions to the portraits," senior Carlin Root said. "I believe this will help me grow as an artist, giving me an opportunity to improve on my values."
     Teachers and staff members have partnered with student artists of the school to help fund the project, and the Red Baron donated to the project as well. At the end of each project, the Memory Project organization creates a video of the children's reactions receiving their portraits.
     "The joy on their faces is so plainly evident; they are excited and a little bit in awe," Harrison said. "I think that it is an amazing opportunity for our student artists to use their skills and talents to benefit the lives of children around the world."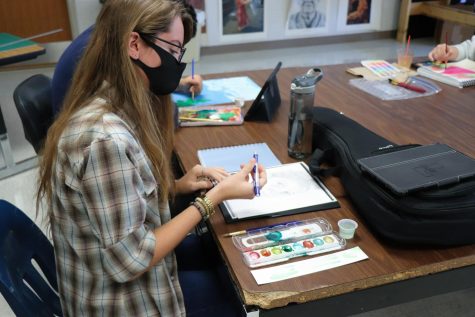 COVID-19 had interrupted the project for Venezuelan children last spring. This led the Memory Project to be unsure whether or not they could fulfill the commitment they made to the children there.
     "Being able to do this for a child who does not have the same privileges as me is a blessing and I know that God had this in my plan," freshman Ireland Cornejo said. "I am super excited to be able to see the kids' reaction to my drawing of them."
     Due to COVID-19 interrupting the project, Harrison has decided to open the project to Art I students. She did this in an attempt to have every photographed child receive a portrait.
     "I would like to thank Mrs. Harrison for allowing Art I students like myself to participate in this, because I think it is one of the best things I will do this year," freshman Julia Montgomery said. "I think that this will help me grow as a person because it widens my horizons and allows me to make meaningful change in a kid's life."