LISD Convocation 2013
With smiles, hugs, and even some matching t-shirts, all of LISD's employees started off the new school year at the convocation held in the Performing Arts Center on Monday, August 19.
Superintendent Stan Surratt welcomed all employees to another great year and then showed a video of Matt Watts, School Board President, who thanked the teachers  and employees for their contributions to the district.
The LISD Educational Foundation gave away prizes from WalMart, Crossfit, Starbucks, Target, Subway, IHOP, and Lindale Floral.
Keynote speaker, Adam Saenz, took the crowd from laughter to tears with his inspiring words about the importance of teachers in students' lives.  Saenz emphasized that teaching is "not a job" because jobs only "swap pay for a service."  He said teaching is "not a career" because that's only a "job with advancement opportunities."  Instead, he said teaching is a "calling" and is only effective when treated as such.
"When you change the life of a kid, you change who they will become forever," he said.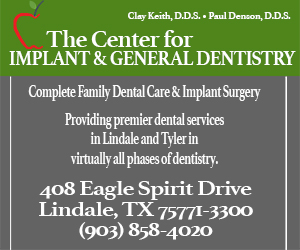 Leave a Comment