Guide to the SAT and ACT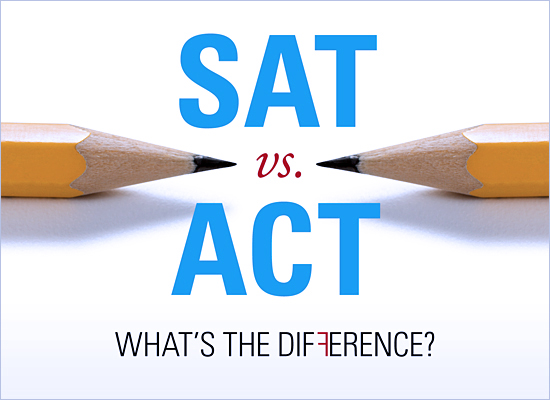 Taking the SAT and ACT is integral to applying for college, however, it is often difficult to know exactly how and when to tackle these exams. Knowing which test to focus on, when to take the tests and how often to take the tests simplifies college applications exponentially.
Which Should I Take?
As explained by test preparation organization PrepScholar, colleges only require a score from one of the tests, so it is important to determine which test would yield the greatest score. It is best for each person to focus on the test that fits them.
If you cannot work quickly, the SAT is a better option. A major distinction is that the ACT overall offers less time per question than the SAT, so if working under pressure is too stressful, the SAT is more preferable.
If doing math without a calculator is extremely difficult for you, the ACT is a better choice. The SAT has a section that focuses on algebra but does not permit calculators. Additionally, while the ACT allows calculators for all math, it contains more geometry and trigonometry that a calculator often does not offer as much assistance with. The ACT also does not provide a formula chart.
If you excel at grammar rules, the ACT is best for you. If you prefer to answer questions about writing style and have strong vocabulary skills, the SAT is a better fit.
The ACT also includes a science section that, in actuality, tests little science and instead forces students to analyze charts, graphs and texts. This is a relatively easy section that can improve overall ACT scores with little preparation.
When Should I Take Them?
The following is a schedule I believe the following would have improved my scores on the SAT and ACT personally and is a reliable guide to taking the tests.
First Test: February ACT, March SAT or both as a junior. Little preparation is necessary.
Second Test: May or June SAT/ACT as a junior. I would take only the test that fits best at this time, and preparation for that test is advised. This can be done through official test preparation programs, free assistance online or individual practice using SAT or ACT practice tests.
This is the bare minimum, so if further improvement is wanted, preparation during the summer and additional tests are necessary.
Third Test: August SAT or September ACT as a senior.
Fourth Test: Late fall SAT and ACT, the last opportunity to take the tests.
Speaking from personal experience, applying for college acceptance and scholarships can transform into a stressful and time-consuming experience. Preparing for it early, in part by performing well on the SAT or ACT, simplifies the process and is a major aspect of keeping stress to a minimum. Good luck to everyone taking them in the future!
Basic Format (SAT)
| | | | | |
| --- | --- | --- | --- | --- |
| Order | Section | Time in Minutes | # of Questions | Time per Question |
| 1 | Reading | 65 | 52 | 75 seconds |
| 2 | Writing and Language | 35 | 44 | 48 seconds |
| 3 | Math No Calculator | 25 | 20 | 75 seconds |
| 4 | Math Calculator | 55 | 38 | 77 seconds |
| 5 | Essay (Optional) | 50 | 1 | |
| | Total: | 3 hours, 50 minutes (3 hours without essay) | 154 (+1 essay prompt) | |
Basic Format (ACT)
| | | | | |
| --- | --- | --- | --- | --- |
| Order | Section | Time in Minutes | # of Questions | Time per Question |
| 1 | English | 45 | 75 | 36 seconds |
| 2 | Math | 60 | 60 | 60 seconds |
| 3 | Reading | 35 | 40 | 52 seconds |
| 4 | Science | 35 | 40 | 52 seconds |
| 5 | Writing (Optional) | 40 | 1 | |
| | Total: | 3 hours, 55 minutes (2 hours, 55 minutes without essay) | 215 (+1 essay prompt) | |