Sophomore is first student advancing to state meet
Speech and Debate team members competed in the Swing Tournament in Hallsville on August 29 and 30. Sophomore Mary Gray placed first both nights in United States Extemporaneous Speaking and became the first person in Texas to qualify for the Texas Forensic Association State Meet.
"I was really excited to figure out I'm advancing to State," Gray said. "This will be a great opportunity to stretch myself and to enhance my academic ability as a student and as a debater."
In addition to her wins, Gray and her partners, Senior Peyton Cooley and Sophomore Lauren Lang, placed second in Public Forum Debate both nights. Gray was also the Public Forum Debate Top Speaker on Friday.
"This was our first time competing through the TFA circuit," Gray said. "It was heavy competition, and you could tell everyone was there to win. However, the kids were all very welcoming and created a nice atmosphere."
______________________________________________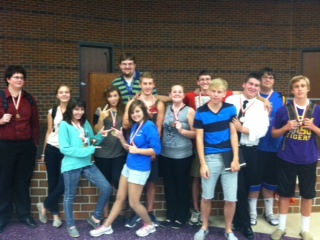 Debate Results
Friday results:
1st – Public Forum Debate – Jessie Elliott/Logan Herrera
1st-  United States Extemporaneous Speaking – Mary Gray
2nd – Public Forum Debate – Mary Gray/Peyton Cooley
3rd – Congressional Debate – Jonas Thrasher-Evers
6th – US Extemporaneous Speaking – Peyton Cooley
Quarter Finals CX Debate – Barron Wolter/Cody Gufstansen
Saturday Results
1st Public Forum Debate – Jessie Elliott/Logan Herrera
2nd Public Forum Debate – Lauren Lang/Mary Gray
3rd Public Forum Debate – Daniel Gerthe/Brandon Thrush
1st – US Extemporaneous Speaking – Mary Gray
3rd – US Extemporaneous Speaking – Peyton Cooley
5th – Congressional Debate – Jonas Thrasher-Evers
6th – Congressional Debate – Peyton Cooley
5th – Humorous Interpretation – Lacy Bond
Quarter Finals CX Debate – Barron Wolter/Cody Gufstansen