Theatrical Design Students Advance to State Meet
Zach Jones, Assistant Editor of Sports and Copy
March 31, 2021
Seniors Allison Somes and Cameron Hilliard qualified for the 4A UIL State Meet in Theatrical Design last Monday.  Somes qualified for the meet in hair/makeup while Hilliard qualified in marketing. Both created different interpretations of the musical 'The Man of La Mancha.'
"This is actually the second year in a row for Alli to advance to the state level and our first state qualifier in marketing with Cameron," theatre director Kari McKenzie said. "We are so proud and super excited for both of these ladies."
In the event, competitors are given a specific play to create designs for. In particular, competitors can choose between marketing, hair and makeup, costume or set.
"Basically each competitor takes on the responsibility of becoming the artistic designer of this particular production," McKenzie said. "They have to read the play and decide on a design concept that is uniquely their own through research of the time, characters, and design choices they plan to institute."
Somes and Hilliard will compete in the state meet  May 7-8 against competitors from across the state of Texas. The two received critiques of their work in the form of "ballots" after their qualification to state and will work to improve and perfect their work before the meet.
"I am super excited to have qualified for state in theatrical design again this year," Somes said. "We worked for months creating unique concepts and designs for 'Man of La Mancha' and I am beyond proud of how everything turned out. "
The play 'The Man of La Mancha' is inspired by the story of Don Quixote. In the show, an imprisoned playwright is fighting for his prized manuscript, 'Don Quixote,' and must perform the play to save it from being burned during the Spanish Inquisition.
"I chose to tie Man of La Mancha into the McCarthyism era of the 1950s because, similar to the Spanish Inquisition, anyone suspected to be a communist was prosecuted," Somes said. "Additionally, I took inspiration for my Miguel de Cervantes from Arthur Miller, the esteemed playwright who created 'The Crucible' to cope with the accusations made against him during the McCarthy Trials."
About the Writer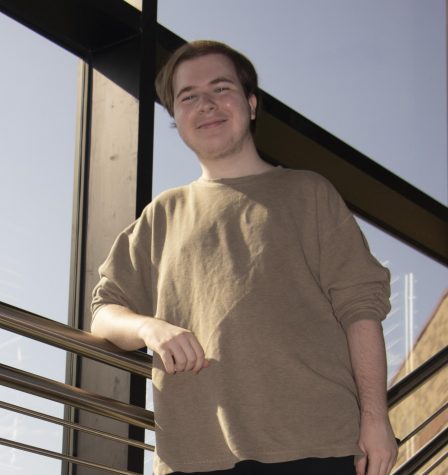 Zach Jones, Assistant Editor of Sports and Copy
Zach is a senior at Lindale High School and is a second year member of the Eagle Eye staff. Zach is also a member of the debate and UIL programs. After...