3D Printing Class Designs Prosthetic Arms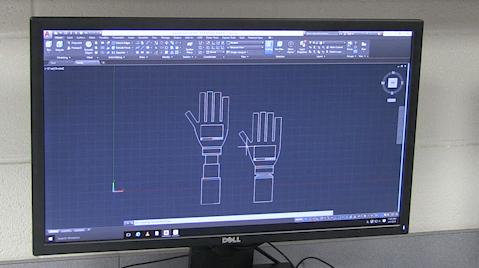 A slow, meticulous craft, each detail contributing to the greater piece. The Auto CAD (computer-aided design) program allows students to create three dimensional pieces of art and. These students will be using it to create a prosthetic arm.
Career and technology teacher Tonya Wheat's 3D printing class will be creating prosthetic arms after being spoken to by Joe Yeakley, a former fireman who lost his arm in a tragic accident. Though the prosthetics will not be available for use for Yeakley, Wheat hopes to show the class how 3D printing can be applied for projects outside of art and can help others.
"I'm hopeful and fascinated on how fast technology is advancing," junior Robert Beaudoin said. "'It will advance quickly and in just a few years later is staggering."

Yeakley spoke to the class at Wheat's request. He served as a fireman before he suffered from a tragic accident and had his hand amputated, and has used a prosthetic arm for the past four years to aid his motor skills.
"The technology just continues to improve," Yeakley said. "I have already had the fingers on my hand replaced with fingers that are 33% faster than the original ones. I am most likely going to have to have my hand replaced in the next year or two."
Yeakley discussed the process an amputee has to go through in order to get fitted for a prosthesis including the cost and process of getting it approved by insurance. He also explained the therapy and training an amputee goes through to learn how to use the prosthesis.
"It was an honor to speak to the class," Yeakley said. "For amputees, the advancements in prosthetics is unlimited. These young people could change thousands of lives. I have high expectation for this project. The technology just continues to advance. This class could very well be part of designing a better prosthesis.