One-act play cast prepares for upcoming contest
She listens carefully backstage so she does not miss her entrance. The bright lights are familiar to her, but she can't help but feel nervous butterflies in the depths of her stomach. As she hears her cue, she walks out, lines running through her head, not missing a beat. This is what one-act play is like for the actors of the LHS theatre company. 
This year, the theatre department is performing the greek play 'Medea' for the one-act competition. They rehearse after school, three days a week or more, to prepare for the performance of the play at competition this month.
"[The preparation includes] going to the store, buying materials that we need for set, costuming and for working on little bits of projects that we need to get done," director Taylor Jarman said. "So we do a lot of the buying for sets and props and stuff like that outside of school so that the kids have them to use and work while they're here."
The kids are required to show up to all rehearsals and memorize lines at home. During rehearsals they learn their blocking, actions and learn more about their specific character for their upcoming competition on February 25th.
"A lot goes into making one-act," director Kari Mckenzie said. "The reason UIL allows you to have five crew members is because specifically lights are going to be a huge issue, sound, then of course you have the entire set that also includes having to set up the set [and] strike, all within the seven minute time period UIL allows."
Students must learn the set and where everything goes. The entire crew and cast gets seven minutes to set up. After that, they get 40 minutes to perform. To additionally prepare for competition, cast members goes to several clinics where they get judged on their performances individually to improve their shows. They also compete in clinics to improve their skills.
"I thought it'd be a fun activity to get more involved in school and stuff since I am new," sophomore Annie Evans said. "I enjoy it because I get to hang out with my friends and we get to do a productive show and it's really fun seeing it come together."
Leave a Comment
About the Contributor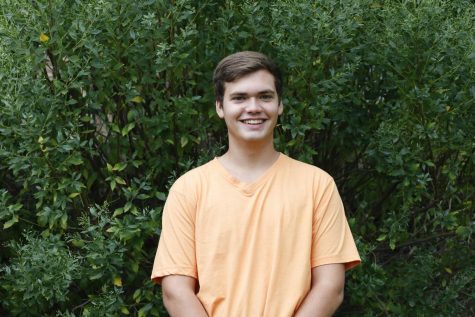 Caleb Smithee, Staff Writer
Caleb is a junior and second year Eagle Eye staff member. He enjoys spending his time playing the drums, bass, and ukulele, and he is in his church's...