Senior receives second all-state honor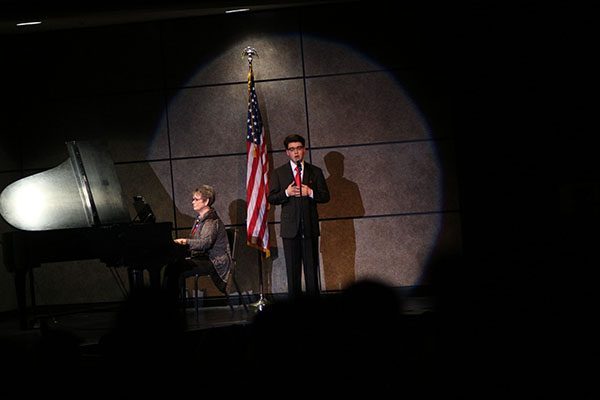 Senior Matthew Brooks will perform with the All State Mixed Choir, one of the highest honors a Texas music student can receive, this coming February at the Texas Music Educators Association. Much to his surprise, Brooks made third chair out of over 1,700 students from all around Texas.
"Matthew has earned himself a spot in the Texas Mixed Choir, which is the guys and the girls together, and it's all the best singers in the state of Texas come together to put on a concert," choir instructor Casey Halbgewachs said. "They perform at the Texas Music Educators Association and it's a big convention where about 26,000 people come together, all who are music educators from the state of Texas."
Last year, Brooks attended a choir camp to learn and exercise his vocals efficiently. At this camp, the students were provided with new music and Brooks has been rehearsing with it ever since.
"It's exciting to make it to this point because I feel like the work I put into this competition is put to good use and has paid off," Brooks said. "This year I felt good on my tryouts, but I was still skeptical. You don't really know how good other people are going to be so you just go in there, do your best and see how it goes."
Last year, Brooks qualified for All State Men's Choir as a junior. 
"Last year in January, I made the Texas All State Men's Choir and performed February at the Texas Bandmasters Association(TBA) convention," Brooks said. "In May I made outstanding performer in UIL solo and ensemble competition," Brooks said. "My practices were regularly about an hour a day and sometimes we would have practices at school."
Not only is Brooks an excellent singer, he is also a diligent student who is willing to learn how to do things the correct way. He strives to improve his voice and work ethic as well.
"If he doesn't do it right, then he wants to figure out how to do it right. His work ethic is really impressive and makes it easier to teach," Halbgewachs said. "He's a really precise singer and he never really misses a note ever or a rhythm. We are just working with him on his musicality, how to be more expressive in his singing and how to use his voice more effectively."
In the past, Brooks never wished to use his voice to sing. In fact, he didn't want to use his gift, but stepping out of his comfort zone has helped him achieve things that were once just dreams and go on to qualify for All State Choir twice.
"I used to always be really scared of singing but there were people in my life who coaxed and pushed me forward into singing out more and doing more things with my voice," Brooks said. "Last year I was actually really surprised because it's really difficult to make it into all state choir, and I never thought that I it would be an achievement for me.  It was always kinda like a wish. I never thought that I was really good enough to make it."