Run like Bigfoot is behind you
Coach dresses as Bigfoot at cross country meet
On your mark, get set, Bang!  The gun goes off and the race has begun.  Running up hills, over roots, and through trails with grass towering over his head at both sides. After the first lap, he starts to pick up his speed to stay in the front.  There is less than half a mile left to go, and as he turns the corner for the last grueling hill, he sees something out of the corner of his eye.  What is it?  He picks up speed and turns around to find that something huge is running behind him.  After sprinting all the way to the finish line, people are talking about "Bigfoot" roaming the course.
"I knew it would be a hit to dress up as Bigfoot because of the hunter shows," cross country coach Adam McMahon said.  "I thought, I'm gonna do this for my son Colton, and maybe it will help sell some T-shirts.  It was a really good opportunity to have some fun."
         McMahon dressed up in a full-body Bigfoot costume for the Lindale meet in Garden Valley.  After hiding in the woods for most of the runs, "Bigfoot" began running the race, and while doing so, got many different reactions from the nearby runners.
"The girls had to run right where I was hiding in the woods," McMahon said.  "When they passed I shook some trees and jumped out and I had a lot of screams.  It was really funny, and a good opportunity."
                The Lindale runners already knew about McMahon's plan before the race started, so they got to see the reactions of other schools when they saw Bigfoot running behind them or emerge from the woods.
         "At one point in time during the race, I started running beside a boy from a different school," McMahon said.  "When he looked over and saw me he just started running faster.  I finished the race with him but I let him beat me."      
As a youth pastor, McMahon used to walk around Whitehouse in his suit and jump out at people just to get a good laugh. However, dressing up to scare people was not his only goal though. His nine year old son, Colton McMahon, is a strong believer that Bigfoot is real, and he wanted to scare and excite his son by finishing the race as Bigfoot.  
         "I was sitting down by the coach's wife and kids, and I said something about Bigfoot," junior Landen Smith-Weerts said.  "We all had to act like we were just kidding about it because they did not know what their dad was doing until he crossed the finish line."
View Comments (1)
About the Contributor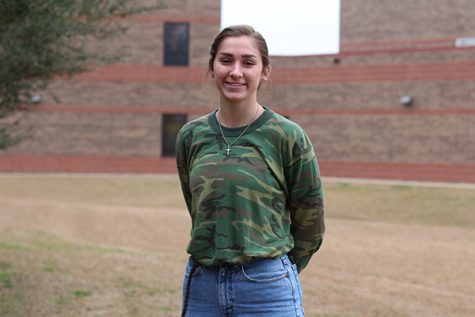 Lorin Reue, Assistant Editor
Lorin Reue is a junior at Lindale High School and a second year member of the LHS Newspaper staff.  Lorin spends  her time playing volleyball, basketball,...