Coaches and Students Participate in Fundraiser for Autism
Basketball coaches Chris Grotemat and Spencer Terry recently coached the boys blue team at the 4th annual Hoops for Autism All-Star game in White Oak.  All proceeds raised will be donated to the Autism Center in Dallas.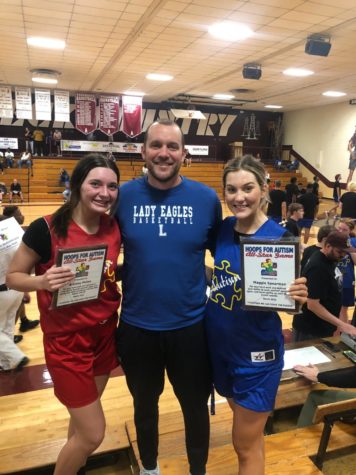 "I felt very honored to be a part of such a prestigious all star event, and proud to be associated with such a worthy cause," Grotemat said. "I enjoy the fellowship with other participating players and coaches, along with helping to raise funds for an exceptional cause."
Three students from Lindale will play in the games. Senior Walter Smith will participate on the boys blue team and seniors Brenley Philen and Maggie Spearman will compete head-to-head in the girl's game.
"I am really excited to compete in this event," Smith said. "It's a really good cause and I'm honored to be a part of it.
To get in people donated an amount of their choosing. There are additional fundraisers coming up. They will raffle off a TV, basketball, two guns, and a guitar signed by Neil McCoy during April. The goal for the fundraisers is $6,000.
"Things are different now than what it was when we first started. So we set goals, and then we just wait and see what we get," event coordinator Dee Lewis said. "We've been blessed and we've been fortunate every year that we always beat our goal and do really great."
Coaches and players are nominated through a form sent out in February. Then, the coaches are chosen based on their character and leadership skills throughout the year, and their nominated player joins them on the court.
"It's exciting when you get in a room and you get to the draft time and you get the picking," Lewis said. "But it's tough because we got a lot of great talent in East Texas, and you want to make sure you get the right one."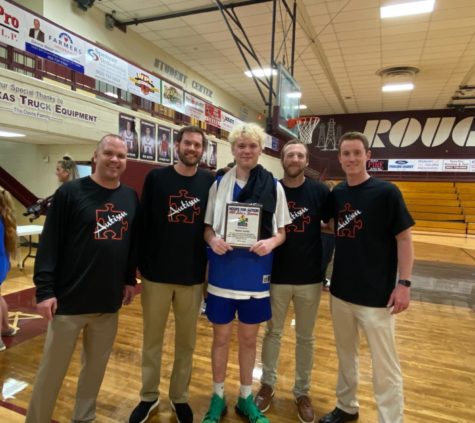 Last year, senior Colton Taylor participated in the event. This will be the first time Lindale's coaches will be a part of Hoops for Autism.
"We are just excited to be able to help Coach Lewis raise awareness for Autism, while also doing what we love in coaching basketball," Terry said. "It's a really cool experience to be able to coach some of the best kids from our area."
    Lewis began this event five years ago while coaching at Union Grove when he wanted to do more for a parent that went above and beyond her duties. She has a son with autism, so they raised money in April through an all-star game to help her receive resources in Dallas that she could not get in East Texas.
    "My favorite part about this event is how East Texans come together to support it," Lewis said. "A lot of people don't have anybody playing, but they still come out and they give back for the cause of autism, and they watch two great basketball games."
Photo By: Spencer Terry