Volleyball Teams Receive District Awards
   Now that all of postseason play is finished for volleyball across the state of Texas, the District 15-5A Awards have been announced.  The Lindale Lady Eagles finished the 2018-2019 season with an overall record of 33-9, a district record of 8-2 with a second place finish, and were also Bi-District Champions and Area Finalists.  
   "We are so incredibly proud of all that our Lady Eagles have accomplished, both on and off of the court this year," Coach Michele Namanny said. " Also, our very own Coach [Jessica] Dimsdle was voted as 'Coach of the Year' ."
   The following awards were voted on by the coaches in the district based on statistics and match play.   Senior Libero Jennifer Moyer was voted "Most Valuable Libero" for District 15-5A. In district play Jennifer had 224 total digs, 23 assists, and 5 aces.  Sophomore middle blocker Skylar Wyllie was voted "Newcomer of the Year" for District 15-5A. In district play Skylar had 60 blocks and 59 kills with a hitting percentage of 0.350%.  
   "I was really honored to be chosen for top libero," Senior Jennifer Moyer said. "I do work very hard, but there were so many talented liberos across the district. I was quite shocked to say the least."
   Senior middle blocker Brina Kuslak, junior setter Harleigh Thurman and sophomore outside hitter Shelbi Steen were voted to 1st Team All District for District 15-5A. Senior right side hitter Hannah Knox, junior right side hitter London Reue and sophomore setter Kalaya Pierce were voted to 2nd Team All District for District 15-5A.
   "Getting the 1st Team All District award feels very accomplishing," junior Harleigh Thurman said. "[I feel very honored to be] one of the first to be picked out of the whole district."
   The following young ladies achieved Academic All-District, meaning their grade point average was a 92% or higher during the volleyball season:  Seniors: Brina Kuslak, Jennifer Moyer, Cailynn Widemon, Hannah Knox — Juniors: Gracie Spearman –Sophomores: Kalaya Pierce, Shelbi Steen, Skylar Wyllie.  
   "It felt great to receive this reward because I actually felt myself struggling this year with my grades," senior Hannah Knox said. "I did a lot of extra running due to my grades, but it shows my hard work did not go unanswered and paid off."
   And finally, the following young ladies were nominated to Academic All-State.  There are different levels of accomplishment for Academic All-State, and a few young ladies represented Lindale across the board. Senior Hannah Knox: Honorable Mention– Senior Cailynn Widemon: Second Team–Senior Jennifer Moyer: Second Team–Senior Brina Kuslak: Elite Team.
   "Being nominated for Academic All-District is something I have achieved since freshman year, so it was great to get that again for things to come full circle in my high school career," senior Brina Kuslak said. "Elite Team for Academic All-State is something that I did not expect, however, even Coach Dimsdle had never had a student do that, so receiving that my final year of high school was a pretty great honor."
Leave a Comment
About the Contributor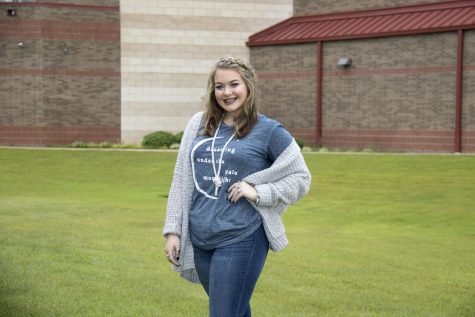 Haylee Haxton, Assistant Editor of Copy and Social
Haylee is a senior at Lindale High School and the Assistant Editor of Copy and Social for the Eagle Eye staff. Haylee is also a member of National Honors...