Athlete Spotlight: Senior Football Lineman James Sandifer
He joins the huddle as the play is called. In a second, he will line up to block for the quarterback and protect him from potential tacklers. The ball is snapped, and he sees an opposing player quickly race over to take down the QB.  Just in time, he reaches the player and pancakes him to the ground while the quarterback throws the ball into the end zone for the touchdown.
Senior James Sandifer plays the position of offensive lineman on the varsity football team. He is a team captain and has played football since third grade.
"I've played sports since kindergarten, [and] I started playing football when I was in third grade," Sandifer said. "I was just encouraged by my parents to get into it and it's been a really good decision."
Head football coach Chris Cochran chose Sandifer for the Eagle Eye spotlight because of his character both on and off the field. Furthermore, he was chosen because of his commitment to this season.
"James Sandifer is a very high character young man," Cochran said. "I would say he's the most respected of all of our football players. James has just put so much into this season, and his character on the field and off the field, not just how he works but how he treats people off the field, how he takes his classes so seriously. He's just very involved, just wanting to be a good role model for our high school and for our community."
In addition to his character, Sandifer was also picked for his ability on the field. Cochran describes his playing style.
"He's a really nice kid off the field," Cochran said. "[On the field] I would say he's nasty. He's mean. He likes to pancake people, and he takes pride in that. All of our offensive lineman take pride in that but James – he's pretty mean on the field, so he's fun for us to watch."
Sandifer participates in powerlifting, throws discus and is on the fishing team in addition to playing football. Though he plays multiple sports, he does recognize that sports are not always easy.
"I like the camaraderie you have with your team," Sandifer said. "You're playing for your team with your brothers, and it just means a lot to do that. Playing through injuries is tough and the workouts in offseason are really hard. If you can get through the workouts you can get through whatever [is] thrown at you during the game."
In his free time, Sandifer enjoys going hunting and fishing and watching TV. After graduation, James plans to attend college.
"I plan to play football in college," Sandifer said. "I'm not really sure what degree I will pursue, but hopefully I'll find out when I get there."
The Eagles will play Montgomery in the bi-district round of the playoffs Friday with Sandifer leading the offensive line. The team clinched a second place spot last week with their 36-34 home win over Jacksonville. [UPDATE:  The Eagles won their match-up against Montgomery and were able to go to the Area playoffs at NRG stadium in Houston where they fell to Port Neches Grove in a hard-fought battle.]
"It's cool to be recognized for something like this where you put in a lot of hard work and a lot of time," Sandifer said. "It's been a really good decision [to play sports] because it's taught me a lot of life lessons. I'm going to carry what I've learned in sports throughout my life."
Leave a Comment
About the Contributor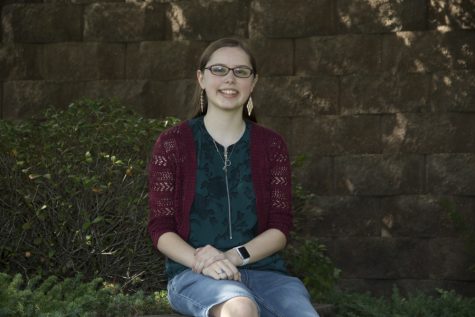 Colleen Starkey, Editor-in-Chief
Colleen is a senior at Lindale High School and is the Editor-in-Chief and sports editor for the Eagle Eye staff. Colleen is involved in UIL, band and is...