Seussical the Musical Sets the Stage
The theatre department held auditions for the upcoming production Seussical The Musical on Monday, October 2 . Rehearsals began the following Thursday and the production is set to open November 9. This will be the first full-scale musical production the school has put on in six years.
"We chose Seussical because we wanted to do a musical," theatre director Taylor Jarman said.  "We wanted [a show] that was going to be fun and involved and that has a large cast, and we think [Seussical] fits the cast that we have right now. There are a lot of good moments, so we can really bill it toward the families in the community and bring them out to show Lindale that we're doing really good work and making good theatre at the high school."
"
We knew that Seussical would be a popular show amongst the community."
— Kari McKenzie
The cast list is comprised of 43 total members, a larger group than productions usually have. The directors are also considering inviting younger students who recently attended Eagle Arts Camp to participate as extras in the musical.
"We knew that Seussical would be a popular show amongst the community," theatre director Kari McKenzie said. "It's very kid-friendly,  fun, exciting, a good story line and we knew that it would be something that people would come to see. Additionally, we would like to get our students their first experience with a musical so that when they move on to the college level they will have some experience with musical theatre."
The last full-fledged musical the theatre department put on was "Wizard of Oz" six years ago. The current students haven't been involved in a musical put on through the school, so for many, this is a first-time experience.
"Rehearsals are basically chaos," actress Kayleigh Melvin said.  "We have dances to choreograph and songs to learn and scenes to rehearse. A lot is always going on."
For the first two weeks of rehearsals, students are learning the music and choreography for the entirety of the show. The directors hired the outside help of Vanessa Richardson, a vocal coach, and Alex Powell, a choreographer.  
"Everything is heightened in a musical," stage manager Sydney Smith said. "The technical aspects will be very colorful and loud, unlike a normal production where things are much more muted. In a musical, most of the tech work is done at the very beginning of the process, whereas in straight plays, a lot of things need to be worked out acting-wise before we can proceed on many technical matters."
There are 11 total technicians divided into different teams working the musical. Unlike most shows, there are two technicians who work solely on set, and the stage manager has two assistants, rather than one.
"A musical is different from a normal play," Jarman said. "I hope that we, as a cast and as actors, learn presentation. You have to be big and exciting and fun in this play. Seussical demands it because the characters are big and well known. I hope that the students, through putting on this show, are able to learn that characterization. By putting the actors in a place where they are challenged to make strong decisions on stage, I hope they gain character from this show."
Seussical Cast List
The Cat in the Hat- Sarah McCeig
JoJo- Kaylee Rodriquez
Horton the Elephant- Giddeon Storkson
Gertrude McFuzz- Annie Evans
Mayzie LaBird- Kayleigh Melvin
Sour Kangaroo- Klaire Hicks
The Wickersham Bros.- Evan Howell
Garrett Cameron
Sam Payne
Mr. Mayor- Patrick McClain
Mrs. Mayor- Julia Austin
The Bird Girls- #1 Alli Somes
#2 Kayci Russell
#3 Jamie Thornton
#4 Aalia Webber
Yertle the Turtle- Elvis Farmer
The Grinch- Dakotah Harris
Vlad Vladicoff- Samantha Rodden
Ensemble (Whos, Jungle Citizens)-
Luke Sims
William Tagg
Kaleb Cole
Abigail Powell
Alison Chaney
Cameron Hilliard
Emma Cook
Haley Bass
Megan Johnson
Kamryn Horton
Kayleigh Horstkamp
Sarah Carter
Bree Smith
Victoria Ricketts
Crew:
Stage Manager- Sydney Smith
Asst. Stage Manager-  Nalany Hernandez
Ass. Stage Manager- Regan Godair
Lights- Hannah Boyer
Maekenah Lloyd
Sound- Kaylea Clay- Lead
Abby Payne
Caleb Lawrence
Backstage- Rebekah Doss
Properties- Chase Welvaert
Austin Reed
About the Writer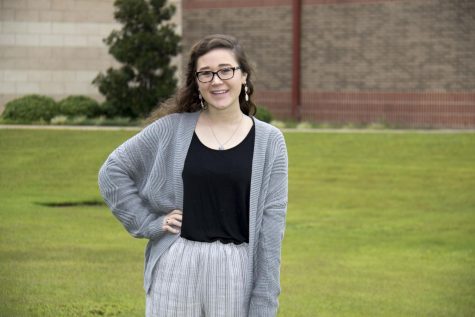 Annie Evans, Managing Editor
Annie is a senior at Lindale High School and the Managing Editor for the Eagle Eye staff. Outside of newspaper, she is a stage manager for the theatre...