Education Foundation Awards $25,000 in Classroom Grants
The Education Foundation awarded  $25,020.19 to Lindale ISD teachers to purchase new equipment for their classrooms. The spring grants funded seven different projects with three for the high school.
"The Lindale ISD is an outstanding school district with amazing, hard-working teachers," President of the Lindale ISD Education Foundation Gay Pyland said. "The Education Foundation's goal is to support these teachers by funding their creative and innovative needs in the classroom. Together, with our individual donors, businesses and community, we support not only the teachers, but we also give our students an added advantage to their education."
Of the three projects, the Education Foundation awarded $4,658 to fund "Aim for Success With Outdoor Adventures." This grant will help fund equipment for the archery unit for the new Outdoor Adventures class for the 2023-2024 school year. Students will be able to earn their PE credit for graduation with this class.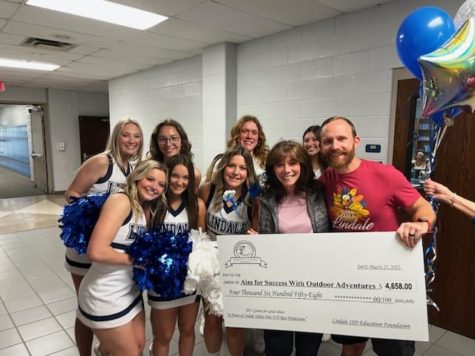 "This is the best time of the year for the Lindale Education Foundation," Executive Director of the Lindale ISD Education Foundation Courtney Sanguinetti said. "Our board members and volunteers work extremely hard throughout the year to raise enough funds to be able to give like we do. To see it all pay off with the excitement of the students and teachers is definitely our reward. We are so thankful for the teachers who applied for these new learning tools and we are excited to see them in action."
The Education Foundation has also donated $5,741.49 to fund "Clay: A Renewable Resource" which will help with the purchase of a pug mill that allows art students to reuse and recycle clay. They have also donated $4,594.20 for "MakerBot SKETCH," a grant utilized to purchase two new 3D printers for the high school engineering and robotics classrooms.
"We are so thankful for our donors and the Lindale community who make all of this possible," said Sanguinetti. "These students deserve a chance to excel beyond the classroom and the projects funded by the Education Foundation help to do just that. Our teachers' dedication to our kids and school district is what makes LISD one of the best."