Students Advance to State in VASE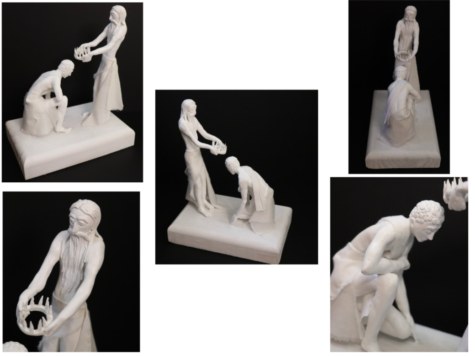 The Lindale art students competed in the Visual Arts Scholastic Event (VASE) on February 26 in Tyler.  Students who advance to state will compete again in April.
    "VASE is the most competitive and comprehensive visual art competition that is available to students in Texas," Art Teacher Rebecca Harrison said. "I think that VASE is a wonderful opportunity for our students to compete against the highest quality of artwork being done at the secondary level."
    Junior Jocelyn Castillo advanced to state for her painting titled "Earth Boy". The painting depicts a boy floating in space with fluffy white hair and brown and green clothing. 
    "Since I plan to get a career in the art field, going to state is a big deal," Castilo said. "I am very excited for this opportunity."
    Sophomore Julia Montgomery advanced to state for her sculpture titled "Crowning of a God" which depicts the Greek god Zeus placing a crown on Apollo's head. The sculpture is made completely out of polymer clay.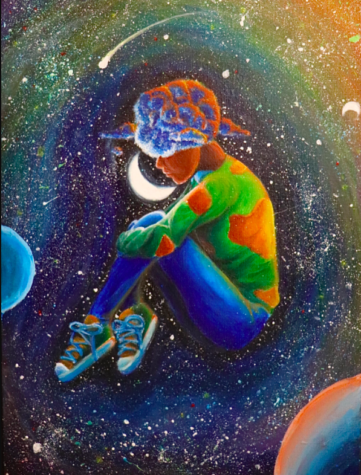 "I love art because it's freedom. I can create whatever I want, whatever I'm feeling, whenever I want and never be doubted for it," Montgomery said. "I love working with my hands, creating designs and characters, and seeing a vision of mine come to life."
At the VASE competition students submit their artworks they prepared and answer questions about how they expressed themselves through their art, what techniques they used in their art work, what the inspiration for their art was, etc. 
"VASE encourages students to use critical thinking and decision making skills and fosters the need to speak about their work in written and oral form," Harrison said. "All of these skills, that are practiced and put into action for VASE, together impact students' lives and futures in an invaluable way."