Tips for Picking the Perfect Dress
Picking a dress for prom, winter formal or coronation can be confusing and stressful if  one doesn't know all the options. From ballgowns to a-lines, these dresses are meant to compliment a person's figure and preferences of length, color, and material. While these formal dresses can be highly expensive, there are  also ways to get your perfect dress for a much better price.
STYLES
Dress types can range from fitted and refined to flared and layered. Depending on the type of style you're trying to achieve, A-Line and Short dresses are usually the go-to for winter formal and prom. Ball gowns can seem over the top, but they are the most fit for coronation and occasionally used for prom as well. The seven main types of dress types are the following:
Ball gowns: Fitted body and large-volume  skirt starting at the natural waist. These gowns usually give people a fairytale look and are sometimes semi-extravagant.
Mermaid: Tightly fitted from bust to knee with a flare starting at the knee. Mermaid dresses are best to have a fitted and elegant  vibe. 
Trumpet: Fitted body with a flare that starts mid-thigh. This dress type is basically just a combination of ball gowns and mermaid style dresses.
Sheath: Follows the body's natural curves, no flare. Sheath style dresses are a very casual style, and are usually only used for events such as Homecoming.
A-Line: These are very similar to ball gowns, except they have a slimmer look with fitted body and a gradually widening skirt. This type of dress is the most popular and classic when it comes to style. It's used for several occasions and events.
Tea Length–This style has a skirt that ends at the knee or just below it.  It is more of an informal style that fits with a variety of events.
Short or Mini: Shorter hemline with a variety of flare and neckline options. These dresses give off more of a party vibe and are typically fitted. [Note: This style is often out of dress code for LHS events, but can still be worn if not too short. Check with the event sponsors.] 
Two Piece: These dresses can be short or long on the bottom, with the distinctive feature of having the top separate from the bottom.  Sometimes the top will show the midriff. [Note: This style is often out of dress code for certain LHS events. Check with the event sponsors.]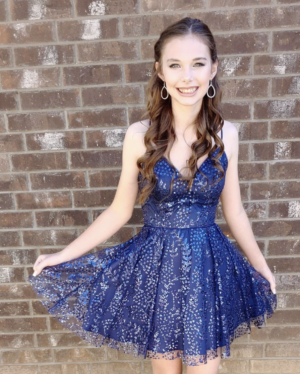 ALTERATIONS
Sometimes dresses just don't fit right, or may not meet the event's rules.  However, dresses can be altered in several ways including length from collarbone to floor, sleeve length, cinching the waist, bringing in or taking out the hips, and changing the neckline.  However, some alterations will change the overall look of the dress, especially in the neckline.  It is best to consult  a qualified seamstress.  In our area, alterations can be made at the following:
 local seamstresses who specialize in fittings. Google "clothing alterations and east texas" for a list of options
certain dry cleaners who offer the services.  Call them individually to see if they offer the service.
individuals who offer sewing services.  These will usually advertise in local papers or you can find them by word of mouth.
sewing shops that share networking.  Some sewing stores in our area (such as Sharman's, The Nimble Thimble, and JoAnns)  have contacts with local seamstresses who offer services.
WHERE TO BUY
After knowing the style of dress you want, knowing where and how to buy it is the next step. While there are specialty shops like David's Bridal, Tux & Prom, and Brooke and Bre Prom Boutique, and Brides and Belles, there are also many less expensive ways to get that perfect dress.
 Department stores.  Department stores such as Dillards, are good options for anyone who likes trying on multiple dresses to see what they prefer; however, their prices for dresses range from $20 to $600. Dillard's has good quality clothing and various options for size, color, length, material, and more.

Online shopping.  For people who don't enjoy trying on several different options, a surprisingly good, cost-effective option for shopping prom dresses is Amazon and Shein.com. Amazon's dresses start at $20 and can go over $900 for the extremely extravagant ones. The materials they use work well for reusing the dress and altering it, and the designers can use your personalized measurements before they ship it. On the other hand, Shein.com carries dresses with costs from merely $8 to $40. Shein's material may not be ideal for several events, but for a night or two, it could be a great fit. 

Lightly-used/once-worn options on social media.  Often, a person will only wear a formal dress once.  Then, they will offer it for sale on Facebook or Instagram.  By checking out local groups, one can find a real bargain.

Junior Christiana Ussery poses at coronation with alumni Caitlyn Bethany. "I love the a-line style of this dress," Ussery said. "It was one of my favorite formal dresses I used." (Photo Provided By Christiana Ussery)
Personally, I prefer ordering a dress on Amazon with my measurements and then altering it to fit my preferences. The earlier you order a dress, the more time you'll have for fitting, fixing, and shopping for accessories for it.
NOTE:  No businesses mentioned in this article are endorsed by the Eagle Eye.  They are listed for informative purposes only.