Theatre Chooses One-Act Play
Sam Lee, Assistant Editor of Photography/Tech
December 21, 2020
The theatre department has chosen "Nell Gwynn" as their one-act play for the upcoming season, and the competition will begin on March 4 and 5. The theatre company was scheduled to perform Nell Gwynn last year after winning district, but the UIL season was canceled due to Covid-19.
We have the opportunity this year to easily use ["Nell Gwynn"] because normally it's a whole process you have to go through to get it approved," theater director Taylor Jarman said. "We want to do a show that is going to fit our group of actors."
Rehearsals for OAP begin each Monday, Tuesday, and Thursday after school every week until 5:30. The lead role, Nell Gwynn, is played by Alli Somes with eight other seniors.
"I'm really looking forward to working with [the cast]," senior Ben Watters said. "It seems like a decent mix of experienced actors and a lot of newcomers. I think all of us will grow from this [and] I'm excited about the leadership."
The play "Nell Gwynn" follows the main character, a quick-witted and beautiful woman as she becomes a member of the King's Theater Company and is faced with many social complications that she has to resolve throughout the play. 
"I've done shows with [Mr. Jarman, Mrs. McKenzie, and the cast] in the past, and I think they really have a good vision going here," Watters said. "I've never seen anything like this creatively."
Cast List:
 Nell Gwynn: Alli Somes  
Rose Gwynn: Carlie Wilson 
Nancy: Cameron Hilliard 
Louise De Keroualle: Kayleigh Horstkamp 
King Charles II: Alex Gaba 
Charles Hart: Ben Watters
Edward Kynaston: Sonny Mauldin
 John Dryden: Price Minter 
Ned Spiggett: Tyler Chamberlain 
Lord Arlington: Kaleb Cole
 Attendants, Hecklers, Members of the Company 
Krissy Dearing
Olivia Harwell
Jakob Davenport
Lathan Jones
Elizabeth Schwind
Technicians 
Jaida Jones 
2.Caleb Lawrence 
Lauren Knox 

Kaylee Jo Harper
About the Writer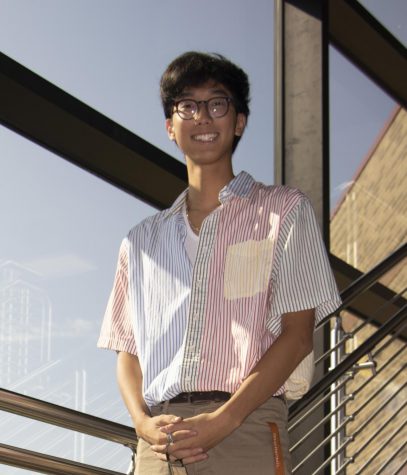 Sam Lee, Assistant Editor of Photography/Tech
Sam is a senior at Lindale High School and is a second year member and the assistant editor of photography  and technology of the Eagle Eye staff. Sam...