Band Welcomes New Assistant Director
     Assistant band director Nicholas Kelley has been hired to teach percussion to band students who are in the sixth through twelfth grades.
     "First and foremost he is a great person and great teacher," head band director Steven Moore said. "Secondly, he is a percussionist, so he will be able to specialize with our drummers and take them to another level and will bring his own perspectives and ideas to help make us better."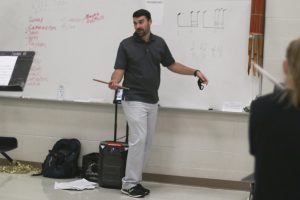 Moore contacted Kelley for the job when the position opened up after former director Bene Davis retired from the junior high. Kelley went to Stephen F. Austin where he earned a degree in music.
     "I am extremely excited to be a part of the Lindale band staff," Kelley said. "This band program has a proven track record of success and excellence, and I am honored to be a part of it."
     Before working here, he worked part time at Hudson High School as a drum tech during his time in university. He then began to student teach at Rice Middle School and Jasper High School, and then after graduating received his first job at Chapel Hill Middle School where he taught the symphonic band, jazz band and all percussionists.
     "Mr. Kelley fits into the ideals and expectations we have in the band program as well as in Lindale ISD and he is a very talented musician and educator, so all that combined will help us to continue moving forward," band director Weston Fisher said. "He has high expectations and fits in with the ideals that we hold not only in the Pride of Lindale Eagle Band but in Lindale ISD itself."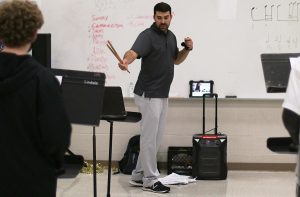 Kelley also worked at Chapel Hill High School for a few years before coming to Lindale. In comparison to his previous job, Lindale has roughly 100 more students in the band.
     "I definitely want to build relationships with all of my new students," Kelley said. "It will be a fun experience getting to know everybody!"