Student Council Hosts Canned Food Drive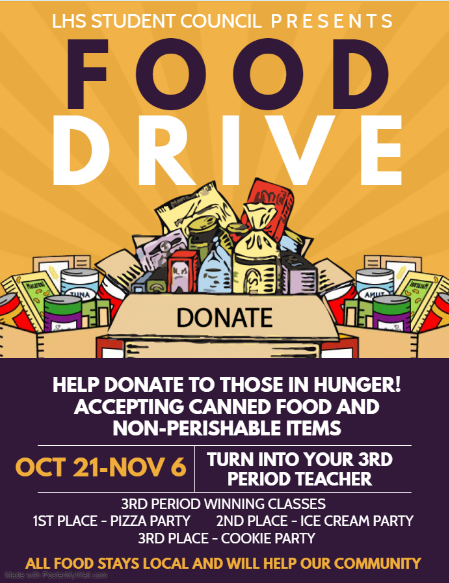 From October 21 until Wednesday, Student Council is hosting a canned food drive. Students can turn in non-perishable items to their third period teacher, and this event is to help those in the community in need for the holidays.
"I hope the student council students understand the importance of serving others," Student Council sponsor Dare Kirklin said. "I want my students to have compassion for other people and people who need a little extra help from time to time. I want them to be thankful for what they are blessed with."
Student Council works with Tonya Watkins who is a part of the Lindale Christmas Helpers. They are a group that comes together to help East Texas families in need of food and gifts.
"If it was not for the students giving cans, then we would not be able to provide help," Student Council president Megan Johnson said. "There is no way we could make this happen without the help of the people who donate."
All of the extra canned foods will end up going to the local food pantry. Furthermore, this will help them even after the holidays happen.
"I think this is a good opportunity for the kids in student council," sophomore Autumn Schoolcraft sad. "It helps us not only think about ourselves, but also others in our community in need."