Top Ten Banquet Celebrates High Achieving Students
The Top Ten Banquet took place May 16 at the Hideaway Lake Clubhouse. Each year, the event honors the top ten students in a graduating class and their outstanding educators who influenced them personally throughout their academic career.
"Being in the Top 10 is something that each of these graduates along with their families and educators should be very proud of," Superintendent Stan Surratt said. "Celebrating these students signifies to these individuals and to others that being successful academically is important."
At the event, students along with their families and educators are treated to a meal provided by the school. Each student is recognized for their academic achievement on stage while an interview between the student and their chosen instructor reflect on their time together in class.
"I  am very proud of my classmates and myself for going above and beyond expectations," senior Kaitlyn Barrington said. "It was an emotional event, and it was moving to see how connected everybody is."
The students choose their teachers prior to the event and surprise their instructors with the announcement publicly during class. The moments were caught on film to capture their reactions and displayed during the banquet.
"I teared up watching everyone's videos on the screen," senior Bailey Spencer said. "We have grown up together, laughed together, cried together and now, we are all moving off to different places."
Several sponsors and LISD staff members attend the event to congratulate the students on their accomplishments. The top ten students for the class of 2019 include: Brina Kuslak, Mara Griffin, Abigail Fernandez, Brady Smith, Maddie Mezzell, Joy Nelms, Samuel Payne, Bailey Spencer, Kaitlyn Barrington and Sarah McCeig.
"It often takes sacrifices to graduate top ten," senior Brady Smith said. "It is meaningful to have those sacrifices recognized by congratulating those in our grade who have proven they have a strong work ethic."
Video can be found at https://www.youtube.com/watch?v=BpH42jinIP0
About the Contributor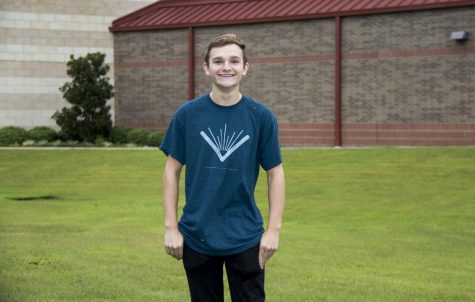 Carter Colvin, Photo Editor
Carter is a senior at Lindale High School and the Photography Editor for the Eagle Eye staff. He is a member of the LHS choir, National Honors Society...