Junior receives Billy Mitchell award
Junior Daniel Sosa is a member of Civil Air Patrol and was recently promoted to the rank of Cadet Second Lieutenant, which is also known as the Billy Mitchell Award. Sosa is a recruiting officer for CAP, which is a civilian auxiliary of the United States Air Force .
"This award is very important," Sosa said. "Those who earn it are advance promoted to an E-3 rank in the Air Force if they decide to join."
Being advanced placed as a rank E-3 (Airman First Class) as a recruit can offer Air Force newcomers better pay and more opportunities in their career. Civil Air Patrol members who earn this title are also given a chance at CAP scholarships and other special CAP activities. The Billy Mitchell Award is also recognized in other branches of the military and is comparable to becoming an Eagle Scout.
"Earning this award shows your responsibility, commitment, and how long you've been in (CAP)," Sosa said. " It's like a decoration, and shows your rank or grade and how high of a level you are at and is a big first step in the program."
"
Earning this award shows your responsibility, commitment, and how long you've been in Civil Air Patrol"
— Daniel Sosa
In order to earn this prestigious award, CAP cadets are expected to demonstrate many of their skills they have learned through passing a "Learning to Lead" exam, which draws many questions from cadet manuals and instruction books. Cadets must also pass a comprehensive "Aerospace Dimensions" exam, attend a cadet encampment, and meet several fitness and leadership requirements set by the Civil Air Patrol.
"We (CAP) are a part of the Air Force and help kids to get ready for (Air Force) if that is what they want to do and (CAP) looks good on resumes," junior Luke Lindamood said. "We serve our community by doing community service and just going out and helping people. We helped in Van when tornadoes hit as well as here in Lindale when tornadoes touched down last year."
The Billy Mitchell Award signifies a cadet's achievement and commitment to CAP and is awarded after the cadet completes the first eight of sixteen achievements or segments of the cadet program.
"CAP takes people and guides them and teaches them about leadership," Sosa said.  "I really recommend this program to anyone who wants to join."
Leave a Comment
About the Contributor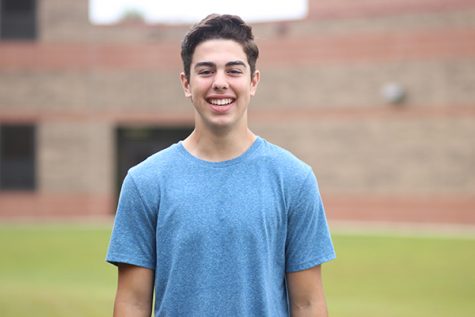 Andrew Barr, Sports Editor
Andrew Barr is a senior and second year member of the Eagle Eye staff. Andrew enjoys college football, Texas Rangers baseball, the Dallas Cowboys and working...