Learning to Fly
Sophomore Learns How to Fly in Preparation for His Private License
He opens the door of the airplane, takes a deep breath before sitting down and prepares for the flight. He presses the brakes forward and switches the master key to turn on the electricity for the plane. He does one final check , confirming he is completely ready for takeoff. Sophomore Henrique Arantes takes off, piloting a plane with the help of an instructor.
Arantes started learning how to fly planes in July of the summer after his freshman year of high school. He currently has flown for a total of 11 hours alongside his instructor Jill Shockley.
"For me, it's just a really fun experience to get in the air, get on the plane, just hit the throttle, and just go into the sky," Arantes said. "I really love the feel of the air and the buzz the airplane and the engine are really comforting."
Arantes's dad used to fly many different kinds of airplanes from America all the way to Brazil. He would watch his father fly these planes as a child and ever since then he has begun learning more about flying and becoming a pilot.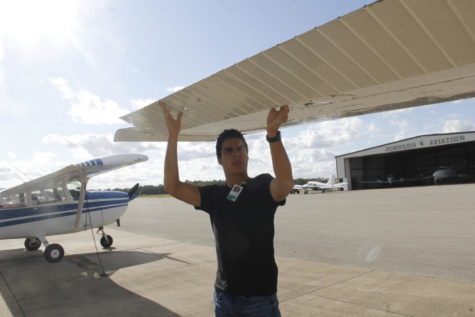 "After the first time I watched my dad take off in a plane all by himself, I knew that I wanted to be just like him one day," Arantes said. "I had always looked up to my dad because he is such a good role model for my family. He really shows us how a good guy should treat other people and he leads us in the right direction."
Arantes flies a small plane that is easier to learn and practice with called a Cessna Skyhawk. Arantes will practice flying this plane until he feels comfortable enough to upgrade to a more complicated plane.
"My favorite part about flying is the thrill of getting into the air," Arantes said. "I enjoy looking around and admiring the landscape of the earth beneath me. The most thrilling part of flying is probably the emergency dive bombs and sudden, steep turns we have to take."
In order to get his private license, Arantes has to have 40 hours of flying with his instructor. A private license is very similar to a driver's license for pilots. It will allow him to fly by himself and to be in command of the aircraft with no one else in the plane.
"I'm really looking forward to getting my private license," Arantes said. "I am hoping to make a career out of flying and the license will open a path to many future job opportunities."