Review of Marvel's "Black Widow"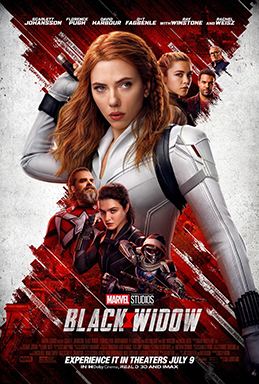 The Marvel Cinematic Universe released the film "Black Widow" July 9. The film was directed by Cate Shortland, starring Scarlett Johansson as Natasha Romanoff, Florence Pugh as Yelena Belova, David Harbour as Alexei Shostakov (Red Guardian), and Rachel Weisz as Melina Vostokoff.
Natasha's backstory had previously been slightly explored in other various MCU films, such as "The Avengers". But, in this feature film, the story of the Red Room is thoroughly explained. The Red Room is an association run by the main antagonist, Dreykov. Young women are raised to be trained assassins. Natasha and Yelena's upbringing in the Red Room is displayed in an emotion-inducing opening. A montage of their experiences from the time they were young gives a glimpse into the cruelty they faced together, and even separately at times. This, though, could have been better if not only the opening credits, but the film itself gave more insight into the training that the Black Widows endured in their time in the Red Room. Regardless, the opening credits were done with an abundance of attention to detail.
The film touches on the topic of human trafficking in a way that can be communicated not only to adults, but younger audiences as well. In the beginning of the film, Melina and Red Guardian take Yelena and Natasha to a trade off, where they are then taken to the Red Room. Many young girls are transported there, which symbolizes the way young women are traded and taken to inadequate, dangerous locations in cases of human trafficking. This topic is serious and rampant throughout the US, so the writer antagonizes the very idea of it by making the villain of the film a human trafficker. 
One of my favorite parts of the film was the sisterly relationship between Natasha and Yelena. Though they were separated for so long after the Red Room, the bond they formed while protecting each other there was a bond that was evidently never fit to be broken. Along with that, they also have a lot of funny sister banter, which is a sweet addition to their fight scenes. It also shows how awesome they are, since they're fighting off tons of people and still finding time to crack jokes. A line that I feel needs major analysis is said by Yelena, "pain and suffering is everyday and we are still trained assassins." One of Natasha's greatest setbacks is her attachment to the Red Room and what it made her, so she tries to escape it in every way possible. Her involvement with the Avengers was an outlet to erase her involvement with what the Red Room made her. Yelena understands what they are and what they went through, and she sort of chases the experience rather than runs from it, unlike Natasha. She uses her knowledge to do what she is trained to do, but not for who she was trained to do it for. You can see that in the scene where Yelena steals a car, causing Natasha to say "you can't just steal a car", which shows her developed sense of following rules. Then Yelena responds by saying "what do you want me to do, unsteal it", showing her tactical usage of her "trained killer" instincts.
The most confusing part of the film was the subplot involving  Dreykov's daughter. I feel like the way it was constructed was confusing, because he revealed her at nearly the end of the film. I did enjoy the part where Natasha woke her up, though. It was very emotional, especially when the daughter says "is he gone?" and Natasha just nods her head while laying on her. That girl was the one Natasha was willing to sacrifice to kill Dreykov, but he didn't die, meaning her sacrifice was much greater than death. She was controlled by Dreykov and forced to live in awful conditions. When Natasha, the one at fault for her horrible life, wakes her up and opens up the opportunity of freedom, it strikes the viewer with so much symbolism. What doesn't kill you liberates you. 
My favorite performance of the film was that of Florence Pugh. This may be an extremely biased take, because I love Florence Pugh, but regardless, I loved the character of Yelena. She provided a lot of humor into the film, was quick thinking, and proved to be very resourceful. She also made me cry a lot, especially when she said "it was real to me" after being told that the family she had growing up wasn't real. Florence Pugh is an amazing actress, and this film proved that point further.
I give "Black Widow" a 10/10. Not only did it make me cry, but it also made me laugh, think, and appreciate. In fact, this is now my all time favorite movie from the MCU. Shortland did amazing in her directing, and I recommend to everyone, whether they have watched it or not, to watch it a billion times over.
Have You Seen Black Widow
Sorry, there was an error loading this poll.