Movin' On Up
Business Office Employee Teresa Malone Has A 32-Year Legacy of Service From Custodian to Accounts Payable
She shuffles the papers filling her desk while adjusting the wooden plaque with her name in bold across it. A sigh of relief leaves her lips as she is reminded of where she began. All those years ago, praying she could make ends meet for her children led her to a place she never expected.
Hometown native Teresa Malone has been working for Lindale ISD for 32 years. She began as a custodian at the primary school. From there, she has been a teacher's aide, computer lab teacher, secretary and now has her own office in the administration building where she pays all the necessary bills for LISD.
Her ability to "work her way up", so to speak, has been praised by many of her coworkers as well as employers along the way.
"I began working for LISD in my early 30's," Malone said. "I started out as a janitor; cleaning toilets, vacuuming, working the crosswalk in the morning traffic in the pouring rain/freezing cold. At this time in my life, I was a single mom with two kids and needed to get by."
Malone worked at a local grocery store when she noticed the opening of a custodial position at the then primary school location. Having young children herself, she imagined a school setting as an ideal workplace.
"It wasn't a low esteem job being a janitor," Malone said. "It was challenging, hard, tough– but I'm thankful I was able to get my foot in the door of working in the schools. I honestly didn't see myself moving up and being where I am now. I thought I would just stay a custodian forever, which at the time, was paying my bills and feeding my kids, so I was content."
From there, Malone accepted a computer lab management position at the primary school. Later, Malone switched to a secretarial position in the front office of the school.
"[Malone] inspires me to no end," coworker Aimeé Walton said. "Our stories parallel somewhat, and through that, I see her perseverance through diversity and feel a connection with Teresa."
On the search for something different, Malone began working as an accounts payable clerk, where she is now, located in her personal office in the LISD Administration Building. Malone has worked in this position for 13 years and plans to retire soon.
"At the time when I got the janitorial position I was a single mom with two kids, so I had to work to keep food on the table," Malone said. "I worked my way up to where I am now and it has been a life-changing opportunity to have such a stable job and responsibilities. [Lindale] is a great place to be and a great school to work for."
Although each day is different, Malone's job requirements now include: handling purchase orders, answering business phone calls, writing checks for the district and being in charge of paying all the bills for LISD. Malone pays the electric, water and utility bills for the whole district, handles any purchases  and entry fees for the sports teams.
"Hearing Teresa's story is honestly an example of the American dream," Athletic Director Mike Maddox said. "The ability to do anything you can set your mind to. I know that [Malone] will never forget those humble beginnings that have gotten her this far to a good job. People like [Malone], who appreciate these humble beginnings are able to inspire others who can't get that first step in."
Malone expresses a very humble outlook on her journey through Lindale ISD. She gives God full credit for her progression of success throughout her years working for the district.
"My advice to anyone in the position I was 32 years ago, single mom, 2 kids or just needing some help to get by: don't give up and keep your eyes on God," Malone said. "God ultimately got me through this– there is always something out there for everybody."
Leave a Comment
About the Contributor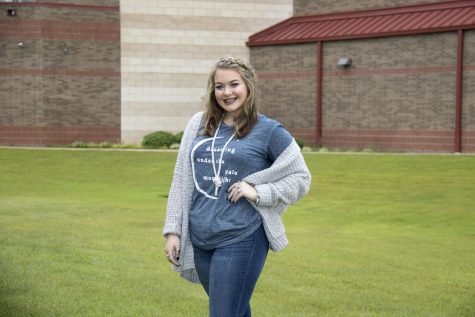 Haylee Haxton, Assistant Editor of Copy and Social
Haylee is a senior at Lindale High School and the Assistant Editor of Copy and Social for the Eagle Eye staff. Haylee is also a member of National Honors...