English Teacher Introduces New Seating Arrangements to Classes
English teacher Kristin Quarles has instituted a new way to learn in her classroom. This new teaching idea is called "alternative seating," and her students have many different seating options to choose from, including ones that are not typically found inside a classroom.
"I think it helps learning," Quarles said. "It's something small, but even something small in a classroom that makes it a little unique, I feel it changes the monotony of just desks in a line."
Her classroom has a variety of seating options, from bean bags to floor tables, and stools to exercise balls, as well as a couch and regular tables and chairs. The students have free range of these options.
"It's nice to have the freedom of choice," senior Sophie Taylor said. "It's better than having to sit in the same types of desks everyday in every class."
Quarles began using alternative seating last year, although she has made some changes for this year. Her classes do group work often, and this style of seating helps make that easier.
"I like having students work in groups," Quarles said. "I also like being comfortable, and I've learned that English lends itself to just wanting to be comfortable when you're reading and writing and focusing on what you're doing."
According to Quarles, there are special types of seating for different types of learners. However, regardless of learning type and ability, there is something for everyone.
"The exercise ball is a great way for students to fidget or who get distracted easily to focus on their seating," Quarles said. "They're able to just sit, bounce a little bit and work."
Taylor says that students sit on the bean bags and such every day, and that the seating in Quarles' class is not distracting. Quarles plans to continue having alternative seating in her classroom.
"I have seen a lot of positivity from alternative seating, both in focusing students, giving them a choice, which has been very helpful because they feel they have a choice in where they sit," Quarles said. "[The students] have actually become more likely to finish their work."
Leave a Comment
About the Contributor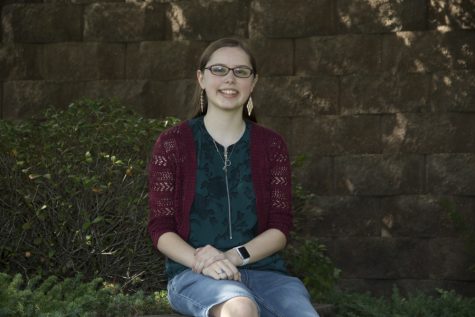 Colleen Starkey, Editor-in-Chief
Colleen is a senior at Lindale High School and is the Editor-in-Chief and sports editor for the Eagle Eye staff. Colleen is involved in UIL, band and is...