E.J. Moss Students Receive Recognition
Sixth graders Landri Laing and Jaxson Buttram were voted as E.J. Moss Students of the Month for May.
   "Jaxson is a perfectly harmonic balance of comedian and serious scholar, and I mean that as a complete compliment," principal Kyle Wright said. "Landri is one of the most driven young ladies that I have been around in my time in education.  She seems to be in constant competition with herself to be better than she was the day before."
   Laing enjoys social studies and math, and her favorite teacher is math teacher Julie Lyon. In her free time, she plays soccer, basketball, volleyball and piano and attends church.
   "I feel honored and surprised [to win]," Laing said. "I didn't know I was gonna be the student of the month."
Buttram's  favorite class is math. In his free time, he likes swimming and going to church.
  "I feel so honored about being one of the students of the month because I've never been student of the month before," Buttram said. "It's pretty cool to be smart."
   Both Laing and Buttram enjoy living in Lindale.
   "I love Lindale because it's a good, well-built school district," Buttram said. "It's a good little town. It has everything you need."
Laing likes living in Lindale because of its size.
   "I like that it's a small town," Laing said. "You pretty much know everybody, and everybody knows you."
  In the classroom, both students stand out in various ways.
   "Landri is a student who participates throughout the class," Lyon said. "She is always part of the conversations and discussions, and she is always conscientious about her work and grades. What makes Landri a little different from others is the fact that she is involved in so many things, yet [she] doesn't let that interfere with her school work or keep her from volunteering to do more."
Likewise, "Jaxson is so fun to have in class,"social studies teacher Louanne Bibby said. "I like having Jax in class because he is so funny and clever.  He has a wonderful sense of humor and is very witty.  Jax also has a great work ethic and loves learning. I am thankful for the opportunity to teach him and get to know him."
   Both students have made positive impressions on their peers and the staff.
   "It is always a pleasure to recognize outstanding students who excel in academics and in their behavior," Wright said. "Landri Laing is very well deserving of this honor and has been an outstanding student at EJ Moss. Jaxson has been a great representative of EJ Moss and LISD for three years. I am ecstatic for him to earn this recognition."
Leave a Comment
About the Writer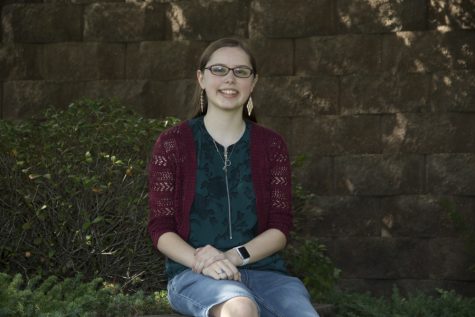 Colleen Starkey, Editor-in-Chief
Colleen is a senior at Lindale High School and is the Editor-in-Chief and sports editor for the Eagle Eye staff. Colleen is involved in UIL, band and is...