UIL Competitors Win Regional Championship in Magnolia
The Lindale academic team won the Region 3 championship for Conference 5A this past weekend at Magnolia High School.  This improves on its runner-up finish from last year. Accruing 259 points, Lindale won the contest with the highest point total for any school in 5A.
"As a team, we literally couldn't have done better," UIL coordinator Rory McKenzie said. "It's a testament to the hard work my sponsors put in all year. One day does not define our season.  It's the entire collective body of work that I'm proud of right now."
The total list of competitors is as follows:
Zach Jones – Computer Applications
Tyler Meador – Computer Applications, Computer Science
Haley Bass – Ready Writing
Emma Grace Cox – News Writing
Tyler Russell – Science, Computer Science
Tyra Rodden – Feature Writing, Editorial Writing
Adrienne Parks – Feature Writing, Editorial Writing, Headline Writing
Bailey Spencer – Feature Writing
Evan Howell – Spelling
Rick Samaraweera – Social Studies
Julia Austin – Social Studies
Peyton Pascual – Social Studies
Jeffrey Ptak – Social Studies
Evan Bewersdorf – LD Debate, Informative Speaking
Samantha Rodden – Literary Criticism, Poetry
Aja Curry – Literary Criticism
Elizabeth Montgomery – Literary Criticism
Maddie Mezzell – Literary Criticism, Prose
Elizabeth Tagg – Poetry
Anthony Wyatt – Persuasive Speaking
Ronak Desai – Persuasive Speaking
"Preparation starts at the very beginning of the school year," computer applications and computer science sponsor Amanda English said. "The contests progressively get more difficult at each level of competition. At the regional level, students must have an advanced knowledge of the content and must be able to recall information quickly due to time limitations on the tests."
Individual results are as follows:
1st Computer Applications – Tyler Meador STATE QUALIFIER
3rd Computer Applications – Zach Jones STATE QUALIFIER
2nd Computer Science – Tyler Russell STATE QUALIFIER
(Computer events are coached by Amanda English)
1st Editorial Writing – Tyra Rodden STATE QUALIFIER
3rd Editorial Writing – Adrienne Parks STATE QUALIFIER
1st Feature Writing – Adrienne Parks STATE QUALIFIER
2nd Feature Writing – Tyra Rodden STATE QUALIFIER
4th Feature Writing – Bailey Spencer STATE ALTERNATE
5th Headline Writing – Adrienne Parks
(Journalism writing events are coached by Neda Morrow.)
2nd Physics – Tyler Russell STATE ALTERNATE
(Science coached by Duane Walton)
4th Social Studies – Rick Samaraweera STATE ALTERNATE
(Social Studies coached by Taylor Jarman)
1st Informative Speaking – Evan Bewersdorf STATE QUALIFIER
2nd Informative Speaking – Ashlyn Ellgass STATE QUALIFIER
2nd Lincoln-Douglas Debate – Evan Bewersdorf STATE QUALIFIER
5th Persuasive Speaking – Anthony Wyatt
1st Prose Interpretation – Maddie Mezzell STATE QUALIFIER
1st Poetry Interpretation – Elizabeth Tagg STATE QUALIFIER
8th Poetry Interpretation – Samantha Rodden
(Speech events coached by JP Fugler and Rory McKenzie)
"It feels absolutely amazing to be attending state as a freshman, and I'm very excited that I have this opportunity," freshman Zachary Jones said. "This year's success gives me a lot of motivation for my next few years in UIL academics because it shows me that, if I put the time and effort into my event, it will eventually pay off."
In addition to these students, the One-Act Play team also advanced to state.  They earned 54 of the points toward the region championship and are led by Taylor Jarman and Kari McKenzie. The company includes:
Kayleigh Melvin

Evan Howell

Elizabeth Tagg

Maddie Mezzell

Julia Austin

Haley Bass

Chase Welvaert

Alli Somes

Alex Gaba

Sarah McCeig

Elvis Farmer

Giddeon Storkson

Cameron Hilliard

Kayleigh Horstkamp

Sarah Carter

Sydney Smith

Annie Evans

Kaylea Clay

Hannah Boyer

Makenah Lloyd

Luke Sims

Nalany Hernandez

Abigail Powell

Caleb Lawrence
"I was completely blown away," junior Kayleigh Melvin said. "We had such amazing competition that none of us really knew where we stood. We haven't qualified for state in 10 years, and it feels absolutely euphoric to know that we were the cast to go back. Winning best actress was like winning the lottery. I couldn't believe it. This show has made me push myself to my limits, and I love it."
​The state competition for One Act Play is April 23-25, the meet for academics is May 4-5 and the tournament for speech is May 21-22. For the first time in more than a decade, Lindale has students competing in all three of the competitions.​
"Everyone is coming for the competition in Austin," McKenzie said. "We can't say if we'll win or lose. But, that shiny medal does make everything sweet.  I love the look on a student's face when they realize that they're a state medalist. It's priceless."
Leave a Comment
About the Writer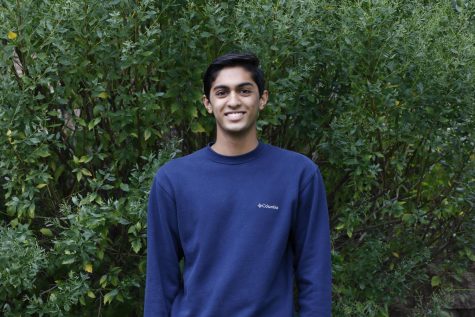 Ronak Desai, Copy Editor
Ronak is a senior at Lindale High School and is the copy editor for the Eagle Eye staff. Ronak is also a fourth year member of the Lindale Speech and Debate...