My Top 10 Favorite Books
If you know me, then you know that I have a passion for literature. There is nothing like sitting by the window on a rainy day with a good book. The soft pitter patter hitting the panes is a symphony to my soul as I dive head first into an adventure. Here are my top ten favorite books.
'Wuthering Heights' 

by Emily Bronte
As a serious reader, I feel it is important to include a classic into this top ten list, and as I am a serious reader, indeed, this is the first classic novel that I have read. There is much controversy surrounding 'Wuthering Heights' whether the love between Heathcliff and Catherine is genuine or desperate, and I will leave it up to you to settle this debate.
'Alex & Eliza' 

by Melissa de la Cruz
'Alex & Eliza' is a novel based off of one of our founding fathers of America and depicts his love story. The couple's humorous introduction and amusing encounters makes it a light read. Anyone with a love for the Broadway musical Hamilton will instantly love this story. Scattered throughout the novel are vague references to the famous lyrics written by Lin Manuel Miranda, and it becomes almost a game to find them all.
'Throne of Glass' 

by Sarah J. Maas
With all of the hype surrounding this series, I was intrigued to pick it up, and I am so glad I did. The evolution of the author's writing style and technique is entirely breathtaking throughout the series. The story starts out simple as all stories do and progresses into a dynamic tale of politics, enslavement, freedom, patriotism, justice, conspiracies and destiny.
'The Darkest Minds' 

by Alexandra Bracken
A post-apocalyptic world, kids with extraordinary abilities and a rebellion? What is there not to love? If you are one of those people who read books before the movie comes out, you might want to hop onto this bandwagon! The movie is set to release in August, and it was directed by the same people of 'Stranger Things.'
'Illuminae' 

by Jay Kristoff and Amie Kaufman
'Illuminae' is an ongoing trilogy about a waging war in space between a big corporation and society. You would think that the plot alone would be its defining feature, but in actuality, it is the way in which the story is told- through classified documents, files, emails, interviews and voice transcriptions. It is purely genius and a phenomenal read.
'City of Bones' 

by Cassandra Clare
Cassandra Clare will always be one of my favorite authors. She has meticulously created a fantastic world in which demons are hunted by "shadowhunters", and she continues to write in this world with different characters and different plots. The background is extremely detailed leaving the entire fandom to fawn over how diligent it is.
'Harry Potter and the Goblet of Fire' 

by J.K. Rowling
Anyone who grew up reading Harry Potter knows it is an escape from the mundane world. The fantastical elements in the story are unlike any other, and the fourth book is the one that the set the Harry Potter fandom into flames.
'Redeeming Love' 

by Francine Rivers
Set in the 1800s, the storyline follows a character who experiences a contrast between survival and living. Her background compels her to refuse the love of God, and it sets off a course of heart wrenching events. The character development is one of a lifetime, and theme behind the novel is central to my heart.
'Keep Your Love On' 

by Danny Silk
Keep Your Love On, or KYLO, is an inspirational book on how to effectively communicate and explores the definition of perfect love. As a Christian, I find it important to live up to God's promises, and this book serves as a guide.
The Bible
The Bible is the greatest action, love and historical story there will ever be. It contains what the other books do not: truth. It delineates a perfect love.
Leave a Comment
About the Contributor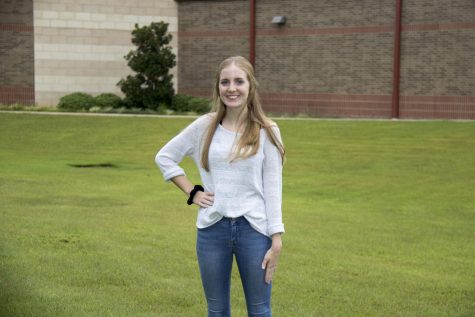 Bailey Spencer, Assistant Editor of Copy
Bailey Spencer is a senior at Lindale High School and the Assistant Editor of Copy for the Eagle Eye staff. Outside of newspaper, she is also a Social...