Debate Students Named NSDA All-Americans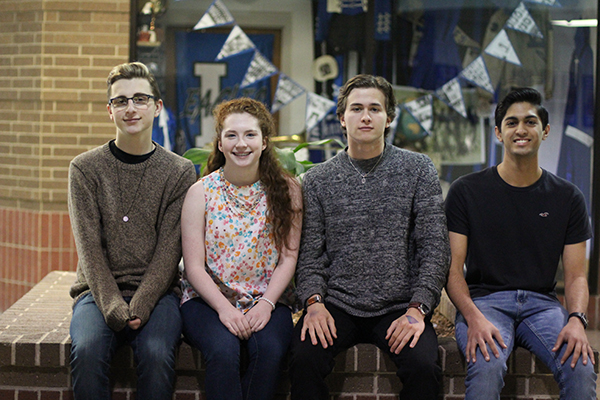 Seniors Ronak Desai, Anthony Wyatt, Robert McWhorter, Evan Bewersdorf and Elizabeth Tagg were named National Speech and Debate Association All-Americans on February 21. This achievement is awarded to graduating seniors who demonstrate academic excellence, leadership and diligence in speech and debate.
"This is a special senior class," debate coach Rory McKenzie said. "These are not just some of our best students this year; they are some of the best students of all-time. I am so proud of their hard work and appreciate so much their dedication to speech and debate."
This award recognizes students who have completed at least five semesters of high school, earned 750 merit points to gain superior distinction in the NSDA honor societ and achieved at least a 3.7 GPA while demonstrating outstanding character and leadership.
"I am extremely honored to have been awarded this achievement," senior Elizabeth Tagg said. "It serves as a testament to my character and work ethic that others can see on my college applications and college related activities."
All of these students surpassed the required merit points enough to be named NSDA All-State honorees, recognition that is based only on speaking accomplishments without academic record. Desai and Tagg are currently ranked in the top 10 students in the country based on their merit points.
"It's nice to be recognized nationally for not only achievements in debate but achievements in the classroom," senior Robert McWhorter said. "It feels good to have so many students represent Lindale ISD on a national level."
From more than 141,000 student members of the NSDA, fewer than 500 students earn the Academic All-American award every year. This accomplishment places these students among the top half of one-percent of all student members on an international level.
"I feel incredibly honored to receive this title," senior Evan Bewersdorf said. "What makes the overall experience better is that I received the title alongside my classmates that I have gone to high school with for all four years."