Theatre Prepares to Compete in One Act Play
The theatre department will be competing in the UIL One Act Play contest on Thursday. The ensemble is competing with the play, 'Anna Karenina.'
"One Act Play is a competition that puts schools against other schools in theatre," director Taylor Jarman said. "You take a full script that's two to three hours and cut it down to forty minutes as best as you can."
For One Act Play (OAP), schools compete with their play at different levels. There are four levels before state, which is the ultimate goal.
"OAP differs from a normal high school production by putting a focus on community and competition," junior Evan Howell said. "Whether a play and its cast advances to Bi-District, Area, etc. is irrelevant to the true spirit of OAP. Although thousands of people are involved in OAP, the most notable part about the program is the bond that is made between cast members."
Plays performed for OAP are different than a normal plays put on by the school. There is a time limit, so plays are cut to fit this limit.
"Cutting is a big part of the competition, trying to make the script make sense in forty minutes is the challenge," Jarman said. "A lot of scripts don't work through this, because you cut too much of the story, or you have to gut certain scripts, which stinks because you take the heart out of the story."
"
Although thousands of people are involved in OAP, the most notable part about the program is the bond that is made between cast members."
— Evan Howell
Actors experience a different setting during OAP. They are not just performing for enjoyment of others, but they are competing through their acting.
"I love the competitiveness of the show as well as the experience," freshman Alli Somes said. "The stress and forever-long rehearsals can be hard to deal with, but it is all worth it in the end. As an actor, I've done things such as learning my lines, character studies and trying to stay sane when the stress takes over."
Because of the intense competition, actors have to perform to the best of their ability. This means finding deeper understanding of characters being played.
"To prepare for this show I had to do tons of research," junior Elvis Farmer said. "I had to get to know myself and what I can do to portray my character. This role is very different to me because I usually do comedy. This role is very serious and is very challenging for me, but it is helping me grow as an actor."
Not only are there differences for actors, but there are also many different aspects for technicians. Different schools have different equipment that the technicians have to figure out how to gracefully use to perform the show.
"For everyone involved, the stakes are high and stress is both inevitable and advantageous," sophomore Hannah Boyer said. "As a light technician, a traveling show means unfamiliar equipment and last minute adjustments. Part of the job in the show is taking what you're given and creating something that levels above what's expected and that's what makes the one act experience so unique and so fantastic."
Leave a Comment
About the Contributor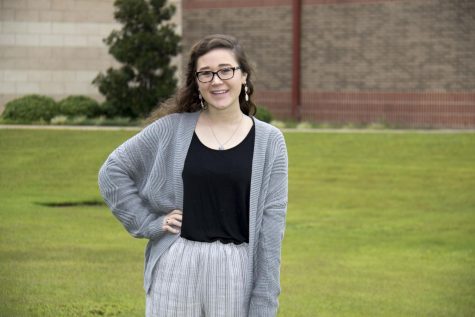 Annie Evans, Managing Editor
Annie is a senior at Lindale High School and the Managing Editor for the Eagle Eye staff. Outside of newspaper, she is a stage manager for the theatre...