Making Her Voice Heard
Junior Auditions for Televised Singing Competition
Hundreds of people wait in long, winding lines, anxiously anticipating their chance at gaining an experience unlike any other. The enchanting sounds of angelic voices harmonizing and guitar strings being plucked fill the air as a young lady soaks in the scene before her. As a feeling of uneasiness slowly begins to rise in her, the girl begins to sing, and, one by one, the fellow auditioners beside her join in. As she feels her fears melt away to the rhythm of their joyful song, junior Tawnya Jones prepares to embark on an all new adventure.
Jones auditioned for The Voice on February 17 at the Minute Maid Park in Houston. Though she did not make it past the first round of auditions, Jones was encouraged to try out again next year for the show.
"I have never done anything like this before," Jones said. "This was my very first time to go out and audition for something like this. My family and friends encouraged me to finally do something with my voice and go tryout."
Singing has been a part of Jones' life since the moment she picked up a guitar at the age of six. While she never had formal lessons, singing became a regular part of Jones' daily life after that life-changing moment of discovering music in her early childhood.
"It's something that I never really told anybody about," Jones said. "I just sang because I loved every moment of creating music. It's a tradition that, when my family has a fire, I always play my guitar, and we all sing together."
The opportunity to audition for The Voice came about when Jones signed up to try out and received an artist audition pass in her email. With the confirmation of a time and place for her to audition, Jones began to prepare for her first official performance, other than a competition at Country Fest her freshman year.
"It was really cool to get to see her go through this process because I know she's been singing for forever," junior Chloe Bryant said. "It's so fun to see her get better and better since I've known her and see her take these steps and be more open about her singing because she's really good."
Jones' preparation began by singing during her everyday activities, such as walking down the hall or sitting in the car with friends. When she started to struggle with her song choice for the audition, Jones enlisted the help of friends for decision-making.
"
Everyone there was unbelievably amazing. When they started singing with me and joining in, I realized we were all the same."
— junior Tawnya Jones
"She was looking for support from her closest friends, and I was there along with Ashley Warren," junior Elizabeth Graham said. "I'm overjoyed that she decided to do this amazing experience and opportunity. It makes me feel like she's my own sister because I get to experience it with her."
When Jones finally ventured down to her highly-anticipated audition in Houston, she, her family and her boyfriend were met by endless lines of auditioners wielding guitars and singing all at once.
"I was so scared because there were so many great singers," Jones said. "Everyone there was unbelievably amazing. When they started singing with me and joining in, I realized we were all the same, and it was just really cool."
After waiting side by side with her family, the time eventually came to split off in the line for singers only. With her nerves mostly calmed by singing alongside fellow auditioners, Jones entered the judges' room.
"It felt so unreal," Jones said. "I felt like I was dreaming the whole time. When I went in the room, seeing all the people made me feel at home. I was nervous at first, but whenever I got through it, I realized this is what I've done all my life."
Jones kept in contact with friends throughout the whole auditioning process to keep them updated and involved. As she awaited results, Jones' loved ones continued to support and encourage her.
"I was very, very proud of her just for even trying out for it because I know how much she loves [singing]," junior Jacob Bonin said. "She is a really good singer in my opinion and to a lot of other peoples' too. I think she's got something going for her."
Although Jones returned home without advancing past the first round of tryouts, she plans to return next year. Jones has also expressed interest in furthering her musical career in different avenues other than The Voice.
"I really want to audition for more things," Jones said. "I've looked at auditioning for American Idol, and I want to do America's Got Talent. I want to grow in singing because music has been one of my biggest dreams since I was little."
Leave a Comment
About the Contributor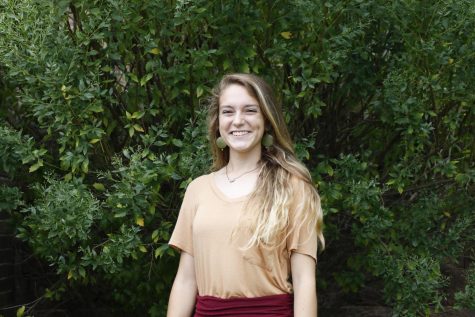 Adrienne Parks, Social Officer
Adrienne is a senior at Lindale High School and the social officer for the Eagle Eye Newspaper Staff. She spends her time as a member of many organizations...