Taking it Back to the 19th Century
In this generation, teen relationships are as common as having a cellular device. Walking down the halls of the high school, seeing  people escorting each other to class is an everyday occurrence. Intertwined hands swing en route and arms encircle each other at their destination.
What if, however, there is a different way?  
The Beginning
On the last day of summer, my best friend came to my house with an unexpected proclamation. In the humid heat with my sweaty palms and frizzy hair, he asked me to court him! Eager to enter a relationship with my crush of two years, we readily discussed what God had in store for us.
What is Courting?
Although no one hears about it, courting is still practiced in modern society. More commonly practiced in historic times, it was an act of a person exploring the personality of another to determine if they are "the one."  Compared to dating, courting lives in accordance with God's will.
Courtship is when a man and a woman are romantically involved with God as their center. Rather than concentrate on infatuation with each other, they apply the word of God to their relationship. 1 Corinthians 13:4-8 is a concrete principle to lean on and states, "Love is patient, love is kind. It does not boast, it is not proud. It is not rude, it is not self-seeking, it is not easily angered, it keeps no record of wrong. It always protects, always hopes, always perseveres. Love never fails." Courting has been a significant experience. Not only have we grown closer to each other in the way that God desires, but we have also drawn closer to Him and strengthened our spiritual relationships.  
Courtship is a choice to avoid temptation and allows two individuals to experience the blessings of virtue. With our commitment to keep our purity, we focus on developing our connection with each other rather than physical attraction.
What does Courting Look Like?
By choosing to set boundaries, it becomes easier to evade temptation. In history, courtship was a strict process. It was frowned upon to even hold hands with one another! With my relationship, we simply always make sure that we are not alone. For dates, we attend family, church and youth events. For walks in the park and around town, our siblings tag along with us. On Netflix and movie nights, we tediously choose a show that is interesting for our siblings as they will be watching too. It is beneficial to always have someone with us to hold us accountable. We have fun together while also sticking with our moral commitments. For instance, at the beginning of the school year, we joined ballroom dance classes. It is an amusing, yet relaxing, activity that has drawn us closer to each other. Whenever we depart, we hug each other goodbye and pray for our relationship and for a closer connection with God.
In our relationship, we inspire each other to dig deeper in our relationships with God while also building sturdy, long term foundations with each other. While courtship is not normal nor common in today's society, personal experience has shown me that it truly has rewarding qualities.
Leave a Comment
About the Contributor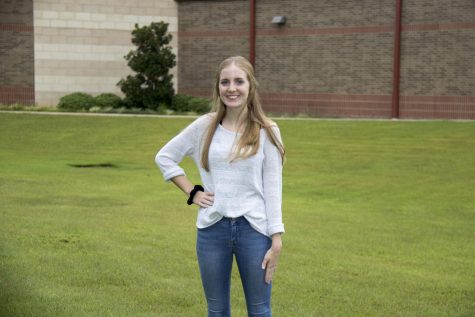 Bailey Spencer, Assistant Editor of Copy
Bailey Spencer is a senior at Lindale High School and the Assistant Editor of Copy for the Eagle Eye staff. Outside of newspaper, she is also a Social...