Senior Fundraiser for Project Graduation
LHS Clay Shoot 2018 fundraiser to finance senior trip
The LHS Clay Shoot committee will meet with parent and student volunteers at 6:30 p.m. on Tuesday at Doc's Pizza to further organize the LHS Project Graduation Clay Shoot. The shoot will be hosted by the group February 10 at 6S Ranch.
"The fundraising process gives the parents a chance to work together and actually meet new people by serving on various committees," committee member John Holland said. "In the end, the fundraising is all about the seniors and giving them a great night."
The event will include prizes, raffle items and silent auction items for those who participate. All prizes, in addition to the clay shoot itself, will assist in the fundraising process for the 2018 Project Senior trip at the end of the school year.
"The clay shoot will be a fun event that will bring a lot of people in the community together to help this senior class," committee member Viki Bunch said. "We are wanting the seniors to have a great time on their trip and make memories of a lifetime."
Sponsors are needed for the upcoming event, and different levels of sponsorship and advertising are available. Sponsorship sign ups are located at www.lhsclayshoot2018.com, and all sponsors' logos will be featured on the event T-shirts as well as displayed on the website.
"
The clay shoot will be a fun event that will bring a lot of people in the community together to help this senior class."
— committee member Viki Bunch
"When I joined the committee, I had no clue what a clay shoot was or what was all involved," committee member Kimberly Hale said. "This has definitely been a learning experience. We have awesome committee members and each one has their own unique contribution. It's exciting to be a part of it."
Clay shooting teams and volunteers are also needed for the event and can register online at the same website. Forty volunteers are needed for the day of the shoot, and student volunteers can receive service hours for their participation.
"I think it's very cool that we attend a school that provides us with a senior trip," senior Ashlynn Beaird said. "An overnight trip to Six Flags as well as some awesome door prizes is a pretty sweet gig to me."
This fundraiser as well as several others are in efforts to finance the senior trip to Six Flags Over Texas in Arlington on May 18, followed by a breakfast in the school cafeteria where prizes will be drawn. To attend, seniors must pay $100 in full by Feb. 28 or $115 by March 31.
"I am really hoping to gain some last minute memories from high school to look back on," senior Tyler Meador said. "Since college is a pretty daunting event up ahead, having some extra memories helps keep me going."
The cost of the overnight trip includes a six flags ticket, an all-you-can-eat meal, bus transportation, an event T-shirt and the free breakfast. The outing will last from 10 p.m. to 5 a.m. and prizes such as dorm fridges, computers and TVs will be drawn at the breakfast.
"Honestly, I am the most excited about hanging out with my friends before college," senior Josh Martin said. "Most of my friends, as well as I, will be moving off to various colleges, and this trip is what will make everyone excited to go start new lives knowing that they will always have a home to welcome them back."
Leave a Comment
About the Contributor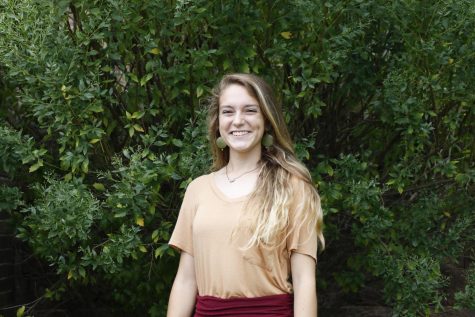 Adrienne Parks, Social Officer
Adrienne is a senior at Lindale High School and the social officer for the Eagle Eye Newspaper Staff. She spends her time as a member of many organizations...