Showcasing Act VII
'Petty's Steak and Catfish Presents Act VII' is a fundraising event held in the Performing Arts Center for the LISD Education Foundation. The foundation was created to support educational programs for both students and staff personnel.
"Act VII is a program that started seven years ago when the PAC was built," program director Neda Morrow said. "The Education Foundation provides grants, products and things for teachers to use in the classroom with students. Every dime that the foundation raises goes back into the classrooms. [Act VII] is designed to find the best talent that our students have to offer from grades K-12 each year."
Act VII is the seventh annual talent showcase for students to show off their talents such as singing, dancing, acting and instrumentation. There are 20 acts in this year's show.
"The foundation provides funds for educational programs and activities which either have not been funded or have been under-funded by the normal school operating budget,"  Education Foundation executive director Courtney Sanguinetti said. "The community is able to get a first-hand look at Lindale students' amazing talents, including vocal and instrumental performances, jazz and ballet dance routines, theatrical performances and oral interpretations."
"
I am performing in Act VII this year because I love to sing, and I want to challenge myself to become more comfortable performing on stage and in front of people."
— Sarah Richardson
There is preparation that goes into the show the week prior. There are also several volunteers who put in work before the show.
 "There are approximately 20 or more student volunteers to man our rooms that the children are in," director Neda Morrow said. "It requires a backstage crew of ten kids. It has a lot of moving parts in between acts, and we want it to be a seamless transition for the audience because they are buying tickets and deserve it."
For many performers, this is not their first time performing. They have shown their talents in other talent shows, at church and choir concerts.
"I will be singing 'That's What's Up' with Lydia Payne playing the guitar,"  8th grade student Sarah Richardson said. "I am performing in Act VII this year because I love to sing, and I want to challenge myself to become more comfortable performing on stage and in front of people."
Other students have performed in the district showcase from freshman year to senior year. They enjoy doing what they love while helping the school district.
"I will be performing the National Anthem and 'Noel'," senior Rebecca Richardson said. "It is my last year [to perform], and I like singing for people because it helps me express myself."
New students are ready to perform as well in order to introduce their talents to the public. One student has performed at several places in Tyler.
"I will be performing an original I wrote a couple of years ago called 'Small Town City Boy'," junior Simon Young said. "I have been performing for three years in locations all around Tyler like Jakes, Clicks, Juls, as well as being featured on local radio shows.  I just recently moved to Lindale, so when I was informed of Act VII, I immediately thought this [was] my chance to show Lindale what I can do."
Leave a Comment
About the Contributor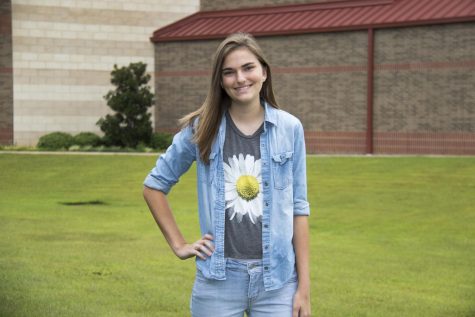 Kaitlyn Barrington, Managing Editor
Kaitlyn is a senior at Lindale High School and the Managing Editor for the Eagle Eye staff. Kaitlyn is also a member of Key Club, National Honors Society...