Featured Faces: Kiley Compton
She feels the blinding lights of the stadium radiating off of her. The roaring audience from the bleachers brings a smile to her face. Her uniform sparkles as she makes her way to the center of the field. She is about to start doing what she loves, performing as a Star Stepper during the halftime show.  
Kiley Compton is a senior Star Stepper. She enjoys cooking shows, drawing and dancing. She hopes to one day have a family and become either an esthetician, a facialist, or a teacher.  
"Kiley has a bright smile on her face each day and is a joy to have in the room," child development teacher Dalinda Cassell said. "She is diligent in the classroom, and I see this same work ethic when I watch her perform with the Star Steppers, she understands how to work with others to get a task a done and shows leadership with her peers."
Compton is a normal high school student. She loves anime, reading and art. She values positivity and believes that it is important to never lose sight of childhood.  
"Dancing is something I've always done, grown up doing and is a stress reliever," Compton said. "I love it. [Being a Star Stepper] is a lot of fun. This is my second year, and it's a lot of work. A lot of time goes into it, but at the end of the day, I love it."
When it comes to her future,  Compton is one of the lucky few high school students who has a plan. She has decided on two career paths to pursue after graduation.
"I am wanting to get my teaching degree but also go to cosmetology school," Compton said. "If being an esthetician, which is someone who does facials, doesn't work out, I can have teaching to fall back on."
 Compton is the kind of person who loves her family. One of her biggest dreams in life is to have a family of her own, but she is still very close to her family now.
"My mom is my hero," Compton said. "As a kid, I didn't have my dad around, so it was always me, my mom and my older sister, us three girls against the world. I could tell that it was hard raising us three girls, and she's protected me from a lot. At the end of the day, she's my mom. She's my hero."
Leave a Comment
About the Writer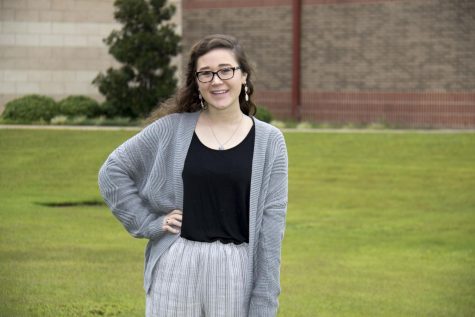 Annie Evans, Managing Editor
Annie is a senior at Lindale High School and the Managing Editor for the Eagle Eye staff. Outside of newspaper, she is a stage manager for the theatre...