Featured Faces: Madison Ortiz
With sweat dripping down her face, she is completely focused on the game. With the sun against her back, she knocks the ball over the net using her racquet. In a moment's second, the ball comes right back at her. She is playing the game she loves, tennis.
Madison Ortiz is a sophomore tennis player. She currently enjoys tennis, hanging out with friends and watching movies. In the future, Ortiz plans to become a veterinarian.
"She is a fun person," junior Cole Ortiz said. "She is also very intelligent and trustworthy."
 There are several things that make Ortiz a unique person. Her Mexican heritage has influenced her personality.
"I am half Mexican," Ortiz said. "I can speak a little bit of Spanish, and I love to dance to Mexican music."
Everyone has a struggle in life. Ortiz's struggle is one that many teenagers have experienced.
"I guess my biggest obstacle is my parent's divorce," Ortiz said. "It is a life-changing experience that others could learn from."
Ortiz has big plans for her future. Along with her bucket list, she also wants to change the world.
"If I could do anything to change the world, I would end starvation," Ortiz said. "I also want to go to college, find someone to love and have kids."
Lindale is an important aspect of Ortiz's life.  She also enjoys spending time with her friends.
"Being a Lindale Eagle means being someone who is part of a great community," Ortiz said. "Being with my friends brings me joy because, no matter what, I always smile and have a great time with them."
Leave a Comment
About the Contributor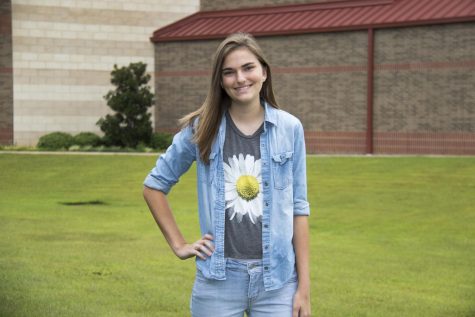 Kaitlyn Barrington, Managing Editor
Kaitlyn is a senior at Lindale High School and the Managing Editor for the Eagle Eye staff. Kaitlyn is also a member of Key Club, National Honors Society...