The Student Becomes the Teacher
Junior Student Teaches High School Class
After taking a deep breath, she walks into the classroom with confidence and her head held high. Instead of taking a seat next to one of her fellow peers, she walks to the front of the room with the lesson plan ready. Goals in mind and pen in hand, she writes scientific formulas for the students to learn and teaches them how to solve equations. Later in life, she will be paid to do what she loves, but for now, she receives a grade to teach.

Junior Mara Griffin student teaches a Pre-AP Chemistry class with teacher Mrs. Lyles. While students typically student teach elementary classes, Griffin's schedule and ambitions work better to teach at the high school level.
"She wants to be a high school teacher, and specifically a chemistry teacher, so I have tried to place her in that environment," instructional technologist Rhonda Walker said. "[Also] the amount of time she is in my class really isn't enough time to go to another campus."
On Mondays through Thursdays Griffin teaches, and attends her Ready, Set, Teach class with Rhonda Walker on Friday. The knowledge that Griffin is gaining through this experience will help her get a feel for real-world applications.
"She is getting hands-on experience helping Mrs. Lyles," Walker said. "She is making up lessons, so it is a very good experience for her."
Only two other students have taught at the high school level during Walker's time at Lindale. Griffin teaching this class is a rare occasion for both herself and her teachers.
"All of my student teachers have already gone through college and are in a teaching program or an alternate vocation program, so I haven't had a student do it before," Lyles said. "At this point, I'm still doing all of the teaching while she is grading papers, but as we go through the year, I will start letting her do more and more."
Griffin was also in Lyles' Pre-AP Chemistry class for the 2016-17 school year and is a student in the AP Chemistry class this year.  
"I had over a 100 in chemistry all year long, and [the teachers] thought that I was perfectly capable of handling the students," Griffin said. "When I graduate college, I want to teach in Texas because that is where I will have my teaching certificate. I want to teach some sort of science, whether it be chemistry or biology."
Hard work and dedication go into being a student teacher. This program is not a typical elective class because students are put into real-life situations and receive first-hand experience.
"When you are preparing a lesson, there is a lesson plan sheet that I have, and it has the Texas Essential Knowledge and Skills (TEKS) number that goes along with the lesson so that you are abiding by state laws," Griffin said. "I would say the hardest part is teaching in a way that everyone understands. Some people have to be able to see it, other people just want to listen, [and] other people just want to read the book because it's a matter of reaching all of your students and not just one type."
"
I felt the sense of satisfaction that teachers get when a student lights up."
— Mara Griffin
Even though Griffin is only one year older than her students, it does not distract her from the primary focus of being capable to teach the class. She is acquiring skills that most teenagers do not have because she has to handle peers very close in age to her.
"I don't think I was really nervous teaching that class because I know a lot of the sophomores that I am teaching with," Griffin said. "They know who I am, and I knew that they weren't going to be rude. I know that there was a respect between us."
Griffin's love for school and learning is what drives her to become a better teacher and student. It is a passion that she has had in her from the beginning of her schooling.
"Whenever I was little, I used to love going to school because it was such a cool new experience for me," Griffin said. "Whenever I was in geometry, there was this kid who was struggling, so I told him my way of memorizing the formulas. After the test, he told me that it helped, and I felt the sense of satisfaction that teachers get when a student lights up."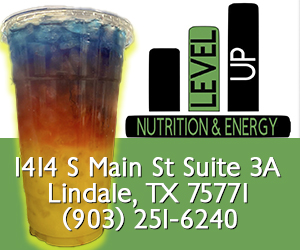 Leave a Comment
About the Contributor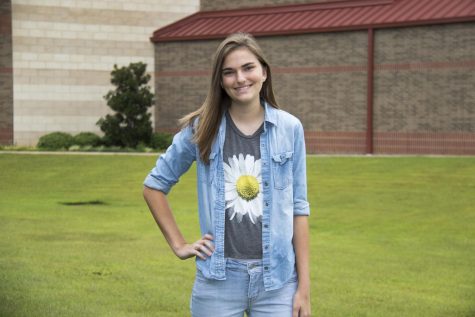 Kaitlyn Barrington, Managing Editor
Kaitlyn is a senior at Lindale High School and the Managing Editor for the Eagle Eye staff. Kaitlyn is also a member of Key Club, National Honors Society...