Volleyball Sweeps Henderson
Last night, the Lady Eagles made a clean sweep of Henderson on the road.  Scores for the Freshmen were 25-20 and 25-12.  Scores for the JV were 21-25, 25-17, and 25-21.
Varsity took three straight sets away from Henderson with scores of 25-19, 25-18, and 25-12.  Leading the play at the net for the Lady Eagles was London Reue (7 kills, 1 block), Brina Kuslak (6 kills, 5 blocks), and Shelbi Steen (4 kills, 2 blocks, 6 digs).   Setters Harleigh Thurman and Kalaya Pierce put up 8 assists each while Thurman added 4 digs and Pierce added 4 aces to the mix.  Libero Alisha Kiser handled the defensive effort with 13 digs.
The Lady Eagles have one remaining non-district game left on the schedule, and that will take place at TK Gorman in Tyler 
on Friday
 night.  Lindale begins district play at Corsicana on 
Tuesday September 19th.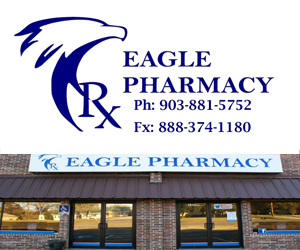 Leave a Comment