Eagle 4:13 track meet held at stadium
On Wednesday morning Lindale ISD held the Eagle 4:13 Challenge at the football stadium. Special needs students from every grade level participated in a track meet staffed by teachers, parents, and student volunteers.
"The kids don't get celebrated enough," superintendent Stan Surratt said.  "Today we are celebrating them, and I think they are picking up on that and really enjoying it.  These young children with disabilities are a blessing from God and we are blessed to work with them."
The students were able to participate in nine different events. These included karaoke, basketball, long jump, an obstacle course and more.
"I think it's great to see the kids breaking out of their shell," senior Heather McLaughlin said. "At school they feel separated from the rest of the kids, but today they are getting to play and do what everyone else is doing."
This is Lindale's inaugural year holding the track meet. According to co-sponsor and Early Childhood teacher Beverly Somes, the event was all about building relationships.
"They can build a bond that makes it easier for the special needs student to go to school everyday," Somes said. "My daughter Abby has Down syndrome and is in the third grade, and the kids that she went to school with have been her best friends forever. They have been big motivators for her and it's this kind of bond we are trying to establish."
"I really enjoy seeing the smiles on the kids' faces after they complete an event," junior Gage Goodson. "It is a lot of fun for the kids and that just makes volunteering at this event even more fun of an opportunity that I could have imagined."
Leave a Comment
About the Contributor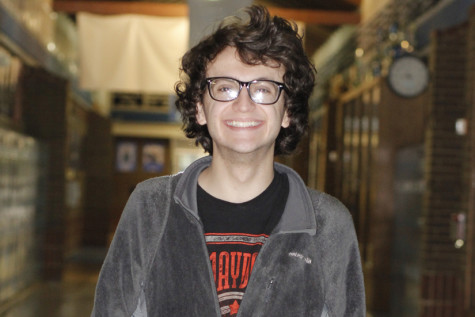 Drew Austin, Social Media Manager
Drew Austin is a senior at Lindale High School and a third year member of the LHS Newspaper staff. Drew is a vegetarian, and he loves animals more than...