Sold out for Pink Out
Lindale raises awareness for breast cancer awareness month
Lindale Eagles, community and students came together for breast cancer awareness during the big Pink Out week.  Both the football and volleyball players, as well as the cheerleaders and drill team,  had special attire planned for the games friday to show their support for those fighting breast cancer.  
"October is the month that they highlight breast cancer," head football coach Mike Meador said.  "I've got several kids and coaches with family who have been affected by breast cancer, and I also have coaches who have other types of cancer.  It is important to show that we are supporting that."
The supporters of Lindale were anxious to prepare for the Pink Out game friday.  This year's Pink Out shirts were sold out after three days of them being on sale and $14,000 was raised by the Star Steppers.
"The best example I can say is people were continuously coming up here wanting Pink Out shirts," principal Chris Tomlin said.  "Some frustration, actually, was happening with the patrons of the community, but it was neat to be able to tell them that instead of being frustrated how awesome it was to be sold out of them."
It is not uncommon to personally know someone who has had, or has, breast cancer.  Head volleyball coach Jessica Camp has seen the fight it takes to beat breast cancer, and is a strong encourager of support within communities.  
"I have had a really good friend, one of the ladies I used to coach with, who had breast cancer and she fought it," Camp said.  "She has been clear for a couple of years.  It was a tough fight but it was nice to see a bunch of the schools gather around and support her."
Varsity football players were provided with pink socks and individually wore pink sleeves, headbands, and leggings.  By doing this, the boys were trying to show their support to those who have gone through the breast cancer battle in any way.
"They are fighting, so we are going to fight for them," junior and varsity football player Montana Meador said.  "My grandma, a few years ago, was affected by breast cancer, so I'm playing for her tonight."
View Comments (3)
About the Contributor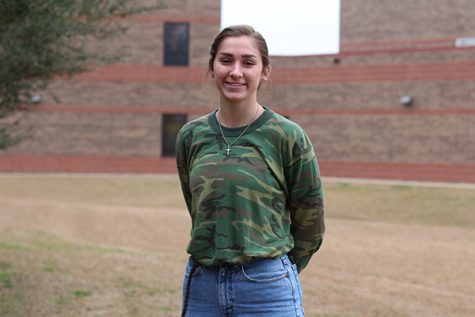 Lorin Reue, Assistant Editor
Lorin Reue is a junior at Lindale High School and a second year member of the LHS Newspaper staff.  Lorin spends  her time playing volleyball, basketball,...